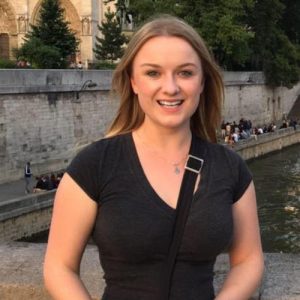 Natalia Kaye
Washington Improv Theater
Aubrey Peterson
Kalynn Chambers
Natalia stumbled into comedy by watching The Simpson's to learn English. Turns out, yelling "I'm Natalia" and then singing the Monorail song is not a great way of making friends in kindergarten when that's all the English you know. In addition to improv, she performs/writes sketch, bounces around DC working on her stand-up sets, and writes satire.
Natalia's been doing improv/sketch since she was a kid, performing with local community theaters throughout her hometown in Chicago and studying at some up-and-coming theaters like Second City and iO. She completed the WIT curriculum in 2018 and performs regularly with indie team, Insect Fight Club.
One day, Natalia will be published in McSweeney's and gets the cartoon caption in the New Yorker. Obviously, it's only a matter of time until she becomes the David Sedaris of her generation. Natalia's satire pieces have been published in Points in Case, Little Old Lady Comedy, and The Belladonna. When she's not data scienc'ing or pursuing comedy, Natalia spends time with her husband and their deliciously named pug mix, Pierogi.
Favorite Color
The dark ones
Childhood Nicknames
Natty Light / "Put it down!" / "Leave it!"