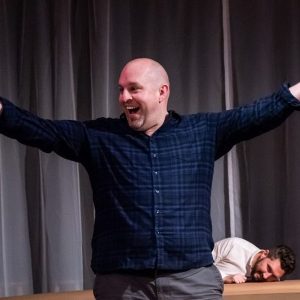 John Heiser
(he/him)
Washington Improv Theater
Jordana Mishory
J.J. Jackson
John Heiser was born and raised in York, PA. He is not a peppermint patty.
John began studying comedy at the DC Improv under Matt Kazam and Shawn Westfall, later at Dojo Comedy as well as with instructors from Second City, Magnet Theater and the Upright Citizens Brigade. He is also known for his play in indie troupe The Four Heads.
In his spare time John enjoys interjecting trivial information into other people's stories, entertaining his friends' kids and watching sportsball. Fun fact: John's high school basketball jersey was retired… in order to honor some other player. John swears "I wore the number last in a varsity game, that counts! They retired MY number."
Photo by Jeff Salmore
Favorite color
Carolina blue
Personal motto
Today is a great day. I cannot fail. I can only learn and grow.
When he's not on stage you can find him doing impressions of Dr. Evil, Ron Burgandy and Katie Ozog
John loves teaching improv because he loves helping students discover their voice and explore perspectives outside their own. He believes improv is good for the mind and soul, so full of life-lessons students can apply at home and work. John wants his students to play at the top of their integrity. His focus is on truer emotions allowing for deeper connections that stretch beyond funny. Students should seek to give in to groupmind of the Harold.
John is a current member of the WIT ensemble Nox! Prior to that, he performed with the WIT Harold team and current indie squad Fisticuffs. He's a member of indie teams Jukebox Heroes, The In Laws, The Four Heads and feels like he's forgetting one. He believes learning is a lifelong endeavor and has sought out workshops with instructors from Annoyance Theater, Upright Citizens Brigade, Magnet Theater, iO Chicago, and Coalition Theater.
Student feedback
"John was just as excited to be there as we were. I loved his feedback. He challenged us a lot and I found it very helpful."
"Amazing. Super supportive and insightful."
"John made the class SO fun, it didn't even feel like our minds were doing all sorts of pretzel twists."
Ketchup or cocktail sauce?
Cocktail sauce, obviously
Current TV obsession
Anything with a superhero