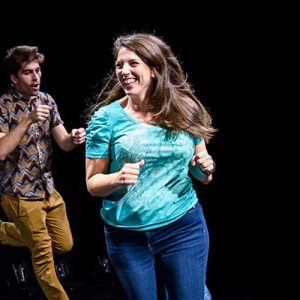 J.J. Jackson
(she/her)
Washington Improv Theater
John Heiser
Gregor Nazarian
In 2011, J.J. took her first improv class even though she was Absolutely. Terrified.
What she discovered there was the magical elixir of improv truth — that right alongside the terror is the elation of being present, trusting yourself, trusting others, and working together to find and follow the fun.   J.J. pursued her new passion and dove fully into learning, performing and teaching.  She also found many unexpected IRL crossover opportunities using improv paradigms as a small business owner and entrepreneur.  J.J., a.k.a. the Paperwork Maven, LLC, works with both individual and business clients providing bookkeeping, health insurance claim tracking and other personalized services. She's found these same core improv lessons (presence, trust, focus, yes-and, and discovering solutions together) are just as essential to success off stage as on.
Currently J.J. co-leads Bagelz & Jam, the monthly improv jam for women she started in 2012, and can be seen on stage performing in WIT's poetry and improv mash-up Poetic Resistance, and the family-oriented NitWITs, as well as with Indie improv teams Press Play, Mystery Scarf, and Thank You For Sharing.
J.J. lives with her husband Steve in Centreville, VA.
2nd Biggest Life Influence (after improv)
Nonviolent Communication (NVC)
Personal Motto
Embrace the Uncertainty
J.J. loves to create a warm, safe environment so that people can confront their fears, dive right in and be thrilled with the experience.
J.J. loves teaching improv because she absolutely loves when students surprise themselves with what they can do. She started taking improv in 2011 despite having extreme stage fright. After that first showcase, she knew she had the "improv bug". She continues to confront her fears in improv (and life) and loves the thrill and magic of it.
She created Bagelz & Jam (an improv jam for women) in 2012 and has run it ever since. She loves seeing the fun dynamics of women playing with each other. She also is part of a team that runs Improv Sandbox, an experimental improv jam.
J.J. is a member of indie teams Press Play, Poetic Resistance, Mystery Scarf and Sweater Kittens. She was on the WIT Harold Teams Fisticuffs, Thank You For Sharing and Tiovivo.
Student feedback
"JJ gave us structure, clear explanations and examples, and created an incredibly supportive trusting environment where everyone was willing to push themselves outside of their comfort zones. She always came to class with a clear lesson plan and learning objectives."
"I can't think of a single thing I didn't like. I loved every minute!"
"She did a phenomenal job of making the class fun, creating a team environment, and also ensuring that it was highly educational. She gave good constructive criticism while also being very positive and encouraging."
"Awesome, take it, take it, take it!!!"
Personal Motto
Embrace the uncertainty
Favorite Color
Teal. Of course teal.