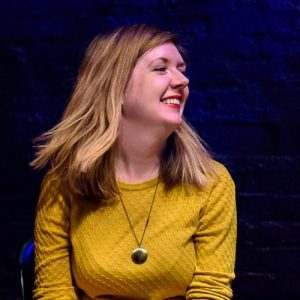 Dana Malone Heiser
Washington Improv Theater
Nikki Stowers
Sabahat Chaudhary
Dana Malone dreams of circling up everyone in her life for a big ol' game of the improv warmup, Big Booty.
Dana believes that there is much personal growth to be gained in improv, and she loves seeing new students have "aha!" moments and embrace the craft. Her teaching emphasizes taking risks, gaining confidence and honoring the gifts of one's fellow players. In addition to WIT, Dana's theater and improv education has included training at The Center for Movement Theatre, The Second City and The Shakespeare Theatre Company.
Dana was an original cast member and director of WIT's The October Issue. She has also performed with WIT Harold team Breaker Breaker, Improv Actually and iMusical. She is a member Press Play, one of DC's longest running indie teams.
Student feedback
"Dana is friendly, enthusiastic, energetic, and able to adapt."
"Dana was excellent! She is an experienced improver with lots of practical experience and tips to share."
"Dana was really good at creating a supportive environment and explaining what the goal of an exercise was.  She also gave really good feedback about how we could change things here and there to help us get more out of an exercise."
Photo by Darian Glover
Karaoke song
"Don't Stop Me Now" - Queen
Dana Heiser fell in love with improv when she enrolled in her first WIT class in 2011.
Dana is currently a member of longtime indie team Press Play. She was an original cast member on WIT's special projects The October Issue and Improv Actually, and has performed with the WIT Harold Team Breaker Breaker and WIT ensemble iMusical. WaPo once said Dana has "versatile wackiness" and she strives to live up to that rep whenever she takes the stage.
A graduate of WIT's training program, Dana has also studied at The Center for Movement Theatre, The Second City, The Shakespeare Theatre Company and The Unified Scene Theater. She is producing improvisation director at TBD Immersive and can't say no to karaoke.
Personal Motto
D$ doesn't do things in halves.
Favorite Color
Fire colors!