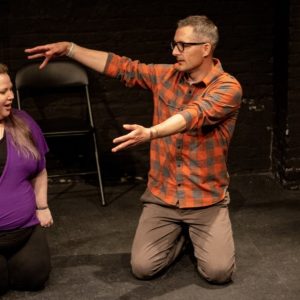 Craig Gagel
(he/him)
Washington Improv Theater
Niv Elis
Nora Dell
Craig fed AI some facts about himself and asked it to write his bio for this page.
Craig is a public servant and Army Veteran who has a passion for comedy. He has been studying long-form improv since 2018, training at esteemed institutions such as the Washington Improv Theater (WIT), the DC Improv, and the Upright Citizens Brigade Theater in New York (UCB-NY). He is an active performer on indie teams Human Magnet and Live and Local.
In his free time, Craig enjoys exploring the outdoors and taking trips to local, state, and National parks with his dog Benny. Despite his many accomplishments and talents, Craig may have a hard time saying nice things about himself, but those who know him can attest to his intelligence, dedication, and sense of humor.
Favorite animal
Cuttlefish
Favorite Quote
It's chaos, be kind