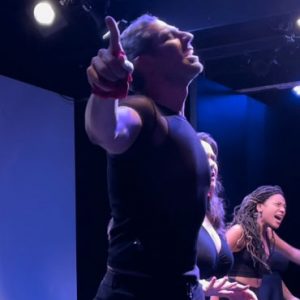 Niv Elis
(he/him)
Washington Improv Theater
Joshua Carter
Craig Gagel
Niv is a stand-up guy except when it comes to comedy, a vehement defender of puns, and the kind of person who laughs at their own jokes, especially on stage.
Niv, a native Pittsburgher, started learning the wily ways of improv while living in Israel, and when he moved back to DC dove head first into the WIT life (Classes! FIST! Palooza!), picking up extra workshops at UCB in New York and BIG in Baltimore. An overly-serious Karaoke artiste, Niv has most recently been venturing into the incredibly scary but fun world of musical improv (give extra claps to those accompanists, it's harder than it looks!).
Niv orders double chicken bowls at Chipotle, loves a Last Word (both as a cocktail and in an argument), and keeps excellent dental hygiene.
Personal motto
"If it doesn't matter in 5 years, it doesn't matter" (also Cher's personal motto, just sayin')
Sleep position
Recovering stomach sleeper