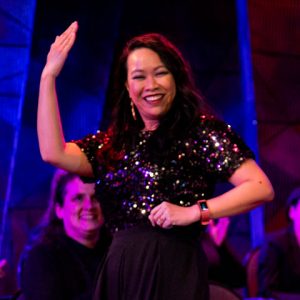 Christina Floriza
(she/her)
Washington Improv Theater
Amanda Hahn
Sarah Wilson
Christina is a DC area native, which is what all people from Maryland and Virginia say for non-locals. She has been improvising all her life, but ohhhh now that she does it on a stage, it's an art form, not an outburst, right DAD?
Christina completed the training program at Washington Improv Theater in 2013, and has also taken electives in specific formats like Close Quarters. She has performed with Asian Moms and Kaleidoscope, and now currently plays with Poetic Resistance and The Asiansy.
In 2019, she was cast as a member of the WIT special project, The Feminine Experience. She has also studied at Studio Theatre in DC and the American Academy of Dramatic Arts in NYC. Christina has performed in multiple festivals, including FIST, Improvapalooza, Capital Fringe Festival, and the NY Improv Festival, to name a few.
When Christina is not improvising, she spends her time binging shows on Netflix, being snarky on Twitter, and overanalyzing texts with proper punctuation. She is also a professional actor (pardon me, ac-TOR), works at an academic library, and has an MA in Philosophy with concentrations in Critical Race Theory and Feminist Theory. In other words, she can perform a Greek tragedy for you, help you find peer-reviewed journals to write about one, or identify the logical fallacies in your argument through the Socratic method, depending on your needs.
The most romantic thing her husband has ever said to her was: "You are not a lot, you are just the right amount."
Hidden talent
Ooh, take your pick from one of these: I can list all of the US states in alphabetical order, I used to be a competitive opera singer, I have working knowledge of 6 languages, I know all the US Presidents, Mark Hamill liked two of my tweets
Key to the perfect Queen's wave
It comes from the elbow