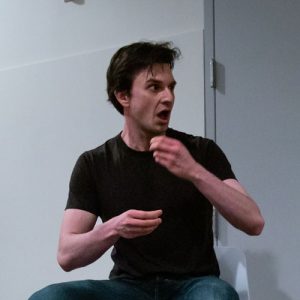 Armin Haracic
(he/him)
Washington Improv Theater
Daniel Barrera Ortega
Anna Burke
Armin needed to leave his house and Improv was the way to do it. He misses his Playstation 5 but sacrifices had to be made for the sake of achieving Dramaturgical Enlightenment.
Armin has been acting since he was 9 years old, going from Community Plays, High School Musicals (we're all in this together home skillet), and Speech and Debate in college. For a while Armin didn't think he would rekindle his performative side until he took a WIT Improv Class in August of 2021. He completed the curriculum, took some Advanced Classes, some workshops, took up Yoga and Zen Meditation, succeeding in doing 5 Chin-Ups in a row, and has hopefully gotten a bit better at the whole comedy craft.
Armin works in International Broadcasting and spends a lot of time name-dropping the media he has consumed. He shall to do this now for the WIT community. He loves Toni Morrison's "Song of Solomon," Don DeLillo's "Underworld", "Paper Mario: The Thousand Year Door" on Gamecube, the movie "Jeanne Dielman, 23 quai du Commerce, 1080 Bruxelles", and "JoJo's Bizarre Adventure." He would name drop more but he has run out of space.
Photo by Mikail Faalasli
Childhood nickname
Armahn. One of my best friends is named Armahn and They Called Him Armin. Tremendous.
Favorite Italian Neo Realist Movie from the 1960s
La Dolce Vita