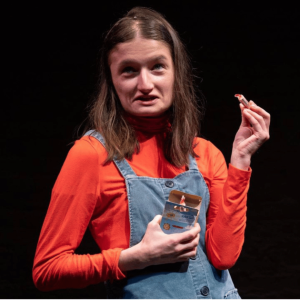 Allison Wilson
(she/her)
Washington Improv Theater
Nikki Frias
Christina Malliris
Allison comes to DC by way of Florida. She is glad to now live in a swamp with seasons.
Allison completed WIT's core curriculum in 2023, after signing up for Level 1 to force herself to get out of the house in the fall of 2021. Since then, she is proud to say she has gotten out of the house many times. She has also taken Musical Improv Level 1 at WIT and participated in workshops about everything from characterization to the Armando. At WIT, she has performed in Improvapalooza and FIST. Through Erick Acuña's Wednesday (now Thursday) Night Comedy shows at The DC Arts Center, she has performed in "Who Did It? An Improvised Murder Mystery" and "Characters Everywhere!" You can also find her performing around DC with her indie team Fat American Vampires.
Allison loves scripted theatre as well and has worked as a dramaturg, director, and actor. In her spare time, you can find her playing her ukulele, petting dogs, or looking for the nearest coffee shop.
Personal hero
Flo from Progressive
Favorite historical figure
Margaret Webster