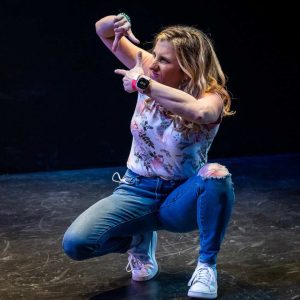 Christina Malliris
(she/her)
Washington Improv Theater
Allison Wilson
Joshua Carter
Christina first experienced improv/theater in middle school and immediately discovered she was addicted to having a large group's undivided attention.
She stuck with sports through high school and college, but after moving to DC in 2014 post-college, she decided to take an improv class on a whim and the rest is history. Christina completed WIT's curriculum in 2019, was briefly part of indie group Follow the Lisa, is a two-time FIST performer, and completed a sketch-writing class where she got to play a jealous fish.
When not on a stage, Christina can be found on the soccer field playing with District Sports, in a dive bar, at her day job as Chief Compliance Officer at a political research firm, or tube-feeding her medically-complex cat.
Photo by Mikail Faalasli
Personal hero
The person who created those spongemonkey Quiznos commercials in the early 2000s
Favorite animal
Alice Roosevelt Longworth's pet snake Emily Spinach