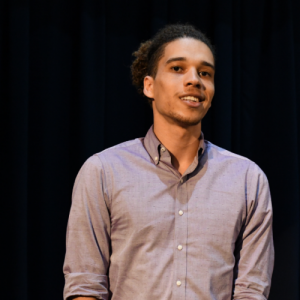 Alex Taliaferro
Washington Improv Theater
Renee Namakau Ombaba
Michael O'Connor
Alex was born and raised in San Francisco where he first found the stage writing and performing in Buddhist themed skits as part of a youth group (think Sunday School for little bodhisattvas).
In college he discovered improv and joined UC Riverside's main team: Improv Anonymous. After moving to DC in 2016, he went through Dojo Comedy's curriculum and now performs weekly with house team Maple Sunday. Since then he has performed at the comedy festivals up and down the Eastern Seaboard, runs a topical variety show called News Done Goodly, does improv in French with La Vie en French, and can be spotted ignoring the concept of a "tight five" at open mics across the city.
When asked about what he does outside of comedy and work (IT), Alex laughed nervously, started looking for something he couldn't find, mumbled something about having a well-rounded life full of interesting activities, and asked for a word, any word at all.
Childhood Nickname
Hey, you're not supposed to be in here!
Best Dance Move
Hypeman-ing better dancers