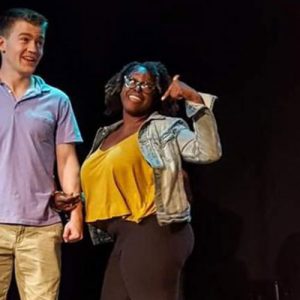 Adrianne Thomas
(she/her)
Washington Improv Theater
Sharona Shuster
Ryan Campbell
Adrianne originates from Dallas, TX where she fell in love with all things creative/performing arts and has never stopped dreaming of making people smile.
Adrianne graduated college in Houston, TX and, after a few too many call center jobs, decided to uproot her life and move to Washington, DC to live the dream. She has now worked and lived for the last 11 years in DC. While looking for ways to express her imagination and artistic aspirations, she happened upon WIT and completed the entire WIT curriculum in 2018. Now, after a pause for the cause she has leaped into artistic action and joined the amazingly talented WIT players.
Her not-so-guilty pleasures include: watching documentaries about true crimes/cults, buying more plants than is necessary, and brunching (even on Monday/Friday if need be).
Best Dance Move
Jumping around to DC House Music!
Childhood Nickname
Baby Girl