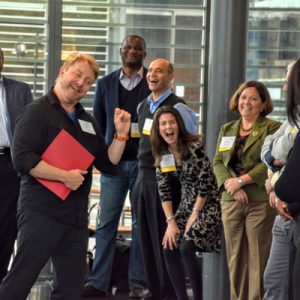 WIT@Work Holiday Events: Celebrate, Learn, and Laugh
WIT Student Mandy Murphy Finishes WIT Curriculum 10 years After Taking Level One
WIT@Work faces a new competitor: Llamas
Struggling with what to do with your team for the holidays? We can help!
Let WIT@Work, Washington Improv Theater's organizational training program, help you plan a holiday event that your team will love. We have a variety of improv workshops and performances to fit your schedule and budget, and all workshops and performances can be done either in-person or online over Zoom.
Celebrate your team with a year-end improv workshop
We've taken our popular team-building improv workshop and tailored it for holiday events. Participants laugh, play, and connect, while also learning improv principles and skills to help them more effectively communicate, collaborate, and create. We offer these workshops in-person or online. The workshop typically lasts one-hour and ranges between $750-$1850, depending on the number of participants, and we work with you to design the specific workshop that fits your schedule, event, and budget.
Laugh with us during a participatory Holiday Improv Show
Let Washington Improv Theater design and perform a show just for your team. Performances can have significant audience involvement (think Whose Line is it Anyway?) or just sit back and enjoy a fully improvised performance by some of DC's most experienced comedic improvisers.
Performances are typically 40 minutes to one-hour in length and can take place in-person (typically at the client's site) or online via Zoom. Cost varies depending on the desired show length, required cast size, and audience, but typically the price ranges between $1,250-$2,500, and we work with you to find something that fits your schedule and budget.
For more information and to plan an event for your team, reach out to the Director of WIT@Work, John Windmueller (john@witdc.org).
Clients love WIT@Work
•  "That was AWESOME!!! Thank you so very much for making us have the most fun board gathering of all time at Compass – at least in my eight years! I was laughing so hard I was crying. I learned so much. Everyone loved it. Such a great thing."
Hallie Smith—Executive Director of Compass Greater Washington
•  WATCH: Cigna's Monica Schmude testifies to the impact of WIT@Work in this video clip.
Published:
October 20, 2021