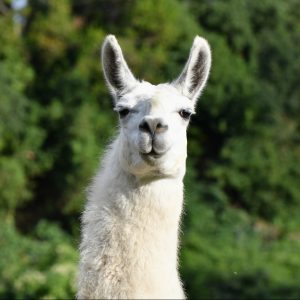 WIT@Work faces a new competitor: Llamas
WIT@Work Holiday Events: Celebrate, Learn, and Laugh
WIT Releases FY21 Annual Report
From WIT@Work Director John Windmueller:
Over the past 18 months, I've had an unexpected competitor while trying to market WIT's improv-based workplace trainings: llamas.
Let me back up. Shortly after the pandemic began, we figured out how to convert our decade-old applied improv trainings to the virtual format. Relatively soon in the pandemic leaders were already struggling with ways to combat Zoom fatigue. How do we do something legitimately fun and engaging together, when it's done online, and online is itself part of the problem?
Turns out, an enterprising farm in California booked their llamas to join online team meetings to boost morale. Other virtual options popped up, ranging from trivia contests to virtual murder mysteries.
While I can't argue that llamas are awesome, WIT@Work's virtual (and in-person!) trainings are highly participatory, custom-designed, authentically joyful. And I'd love to start a conversation about how to bring one to your team. Email me at john@witdc.org or learn more at witdc.org/work.
Whether virtual or in-person, our team building workshops are always filled with play and laughter. But at the same time, it's play with purpose—the games we play together rehearse effective collaboration, communication, and creativity, and they include quick debriefs and lessons learned that connect to research and best practices from the fields of organizational development, communication, and social psychology (I hold a Ph.D. and value evidence-based training).
If you'd like to discuss WIT leading an online or in-person (we're vaccinated!) workshop for your team, please reach out to me directly (john@witdc.org) or through our intake form. Both our online and in-person team-building workshops typically range from 45 minutes to two-hours and average $65 per participant, but we're a nonprofit and walk the talk when it comes to improvising, so we'll always work with you to design a team-building session that meets your session goals, schedule, and budget.
You might be wondering, does it work? How are we doing in comparison to our llama competition?
I can't speak directly to the llamas' results, but we're getting client feedback like this from the executive director of Compass Greater Washington: That was AWESOME!!! Thank you so very much for making us have the most fun board gathering of all time at Compass – at least in my eight years! I was laughing so hard I was crying. I learned so much. Everyone loved it. Such a great thing.
And Monica at Cigna raves in this video testimonial.
Published:
October 7, 2021