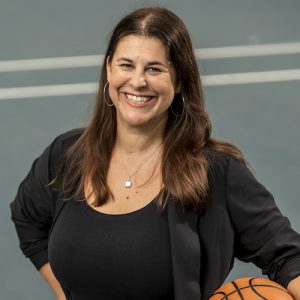 WIT Student Mandy Murphy Finishes WIT Curriculum 10 years After Taking Level One
Jam out with WIT! Musical jams in November and December
WIT@Work Holiday Events: Celebrate, Learn, and Laugh
Some students zip through WIT classes as fast as humanly possible. Recent grad Mandy Murphy… took a little bit longer. Mandy completed WIT's core curriculum in 2021 a decade after taking her first class in 2011. We sat down to discuss how Mandy's relationship with improv has grown, changed, and remained a cornerstone of joy through the years. You can connect with her at @mandynmurphy.
It's been a long road for you to finish the WIT curriculum! When did you start taking classes and why did you sign up?
Mandy: Indeed it has been a long road for me to get through all of the WIT classes. Life can be quite the journey. I started taking WIT classes a full decade ago (which is crazy!). It was back in the fall of 2011 that I signed up for a Level 1 class.  My L1A teacher was JC Calcerano (ed note: back in the day, Level 1 was split into 1A and 1B!) and we had quite a fun group of us that ended up together. 
It's crazy to think about it actually; two of my classmates went on to start dating, and are now married with a kid and have since moved to Brooklyn; one went on to be an Emmy-award winning producer for Good Morning America; one ended up winning six-figures on Jeopardy!; and the WIT team even now has one of my original classmates, Jordana Mishory, on staff all these years later! If I think back to why I originally signed up, it really was just to immerse myself in something fun outside of work.  I had only moved to the DC area within the last two years, and I was seeking out new ways to engage in the community, and figured that I'd encounter people from all walks of life in trying out an improv class and stepping out of my comfort zone. I had done a brief stint at improv way back in high school, so I knew it was fun and I was ready to dive in and have an outlet to laugh and be silly with absolutely no pretense. 
What caused you to take the slow route to taking improv classes and what kept you motivated to finish?
Mandy: It really wasn't an intentional slow route; life just happened.  I took levels 1, 2 and 3 pretty early on, and then in 2013 I got an exciting new role at work which required me to travel extensively back and forth to ESPN's headquarters (which is up in Connecticut).  It was an amazing time in my professional life but one of the downsides was that it didn't provide me with the consistency of being around enough to attend classes on a weekly basis.  So I took a pause from improv for a while.
After being away for about two years, I tried to maneuver my schedule enough to take a class again at some point in 2015 – which was amazing but the reality of my crazy work travel schedule just didn't allow for it to become consistent.  In 2017, I changed jobs to a role that allowed me to be back here in DC more and as part of that change I was determined to get more improv back in my life. I even brought WIT@Work to do a workshop for my team once so they could all learn the power of "yes, and." 
Laughter is just unequivocally good for your soul. Connecting with others is essential to the human experience and I loved those few hours each week where you could truly engage with a room full of people and undoubtedly laugh along the way, without thinking about deadlines or spreadsheets or whatever work checklist was outside of class. I was on a roll for a few years until the pandemic hit and life was upended again. Like so many others, I lost my nonprofit job early on and between that and what was going on in the world it didn't feel like the time or the place to be doing improv. Eventually when I started burrowing out of the pandemic winter, I tried to do an L5 class virtually but alas, trying to learn how to do a Harold via Zoom just wasn't for me. So in terms of motivation, I've had many stops and starts but finally this past summer I made it one of my personal goals to finally crush a Level 5 class. 
What was it like to finally finish Level 5 Harold in-person after quarantine and complete your ten-year journey?
Mandy: It felt really satisfying actually.  I had a blast with my Level 5 teammates—aka Cheap Beer—this fall, and Jamal was a great teacher.  We also nailed our final showcase, if I do say so myself.  In reflecting back on the last ten years of dabbling in and out of comedy, I realize that it's never really been about chasing to get through all five levels.  I honestly think I'd be just as happy diving back into a Level 1 starter class as I would be taking another Harold class. It's been about the experience for me, stretching my comfort zone, laughing with abandon, and savoring the bright spots in an otherwise very challenging past 18 months. 
How has improv made an impact on your life outside the classroom? 
Mandy: Improv has definitely made an impact on my life, both personally and professionally.  It's helped give me the confidence to recently dive into entrepreneurial life and launch my own small business. I now run a sports and purpose consultancy, MNM Strategy, where I get to channel my passion for leveraging the power of sports to make a difference and to lean on the principle of "yes, and" to accept what comes my way in this journey, adapt as needed, and keep moving forward. 
I also have come to accept the small steps that are needed to build on one another over time on the path to achieving success. You don't have to feel the pressure to nail the quick one-liner for a laugh when you step foot on stage. The best laughs are generally from the callbacks after the foundation has been laid in a scene over time.  Personally, it also helps to level with yourself that just like heading into an improv set, you can't control everything – so might as well just be the best and most authentic version of you that you can be. So did I want to get back into online dating recently?!  Not exactly, but rest assured that I'm either going to eventually meet a great man who likes me for who I am or I'm eventually going to compile enough bad date stories to get into stand-up comedy as my next adventure.  You can't ever guarantee what will happen but you can show up and you can try.
What are some things that have kept you laughing over the past year?
Mandy: Oh, wow, great question. Early on, I binged Schitt's Creek, which took a while to grow on me but eventually loved it, not only because of the hilarious characters but also because it was grounded in a larger context of community and kindness.  To that same end, I recently got on the Ted Lasso bandwagon (thanks to a friend's Apple+ family plan) and "I believe in believe."  As a lifelong sports fan who also works in the industry, everything about the show melts my heart. My favorite, most underrated line was in the bar when one of the show's Greek chorus of characters wants AFC Richmond to win so bad, and eventually, reluctantly screams that if they win: "I will channel my raging enthusiasm into ways to help my community!"  Yes! 
Insecure just started back up again, which I also love.  Issa Rae is a masterclass.  Oh, and my favorite: Trevor Noah.  He was a staple for me during the pandemic with his Daily Social Distancing Show and I actually just saw him do stand-up here in DC the other week.  My friends and I cried laughing.  He also has a tremendous way of infusing important messages into his comedy.  And his memoir, Born A Crime should be required reading for everyone.
Lastly, I'd say Saturday Night Live has always been a go-to when I need a laugh. I grew up in the Philly suburbs, much like the legendary Tina Fey whose comedy I've always admired (her Bossypants memoir is another solid read) and I love laughing at that show – Weekend Update is my favorite.  They did a sketch the other week about "Ladies Night" (watch it here) which my friends and I were trading texts about and just dying with its accuracy.  I mean, come on, after this pandemic, who's ever wearing six-inch heels ever again?!  Over the coming year I hope WIT classes and performances keep me laughing.  Even if we all have to rock masks indoors for the foreseeable future, it's nice to know there are smiles and laughs underneath it all.
WIT classes are registering now! Sign up today!