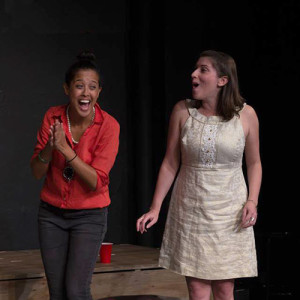 WIT welcomes 23 players to the Harold team program
Big news: Harold Night doubles in size
Jump into improv during the WIT@Work Sampler and Happy Hour
Washington Improv Theater proudly announces the addition of 23 improvisers to our Harold team program. With the addition of these players, the Harold team program will expand to five teams encompassing 45 players.
Returning teams Love Onion and Madeline will each add three players. Tim Harkin, Margaret Lee, and Amy O'Brien will join Love Onion. Madeline will add John Carroll, Isabel Galbraith, and Elizabeth Sanders as well as returning player Patrick Slevin.
Members of Knife Club and Fisticuffs will be incorporated into three new teams coached by iMusical's Bryan Jackson, Season Six's Nick Greenough and Rich Nyman (of former WIT ensemble Jackie).
Bryan Jackson's team
Adam Fishbein
Derek Hayes
Dina Finkel
Jordana Mishory*
J.J. Jackson*
Kristin Brown
Matt Grossman
Matt Guttentag
Steve Major*
Nick Greenough's team
Amanda Barber*
Cecilia De Robertis*
Dan Hardcastle**
Jenna Hall
Jeremy Barofsky
John Heiser*
Lauren Woody
Marc Reber
Ryan Schleeter
Rich Nyman's team
Adam Koussari-Amin
Cassie Barnum
Erica Geiser*
Jim Mitre
Katie Ozog*
Richie Pepio*
Sara Rouhi**
Taylor Edwards*
Tracey Ross
*denotes returning Harold team player
**denotes player returning from prior Harold team cycles