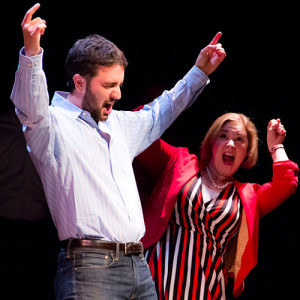 Jump into improv during the WIT@Work Sampler and Happy Hour
WIT welcomes 23 players to the Harold team program
Interview: Why one small company signed its whole staff up for a WIT class
Every night improvisers take the stage, with no script, and engage and delight audiences with a completely original performance, made up on the spot, that's never been seen before and will never be seen again.
WIT@Work uses improv-based training to help teams and organizations improve teamwork, communicate better, and spark creativity and innovation. The WIT@Work happy hour is a chance to learn more about WIT@Work training, try a few of the exercises, and meet other professionals who are excited about finding innovative ways to provide professional development.
Let us know you're coming! Register for free.
Come learn how improvisers use confidence, creativity, and supportive collaboration to create dynamic shows. These same skills can help you and your team succeed in the workplace.