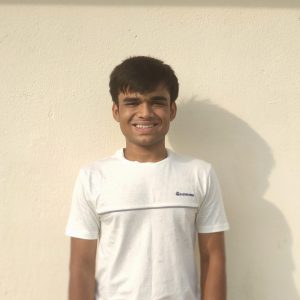 WIT Student Raghav Agarwal: Improv without Borders
Level up your workplace communication skills
WIT Releases FY20 Annual Report
Just like many other WIT students, Raghav Agarwal has been taking Level 1: Foundations of Improv. The only difference? Raghav lives in India. We asked him what it's been like taking improv from halfway around the world, and he told us about his experiences in class on scholarship as well as his dream of becoming an actor. 
How did you become interested in doing improv?  What is the improv scene like where you are?
This lockdown was a blessing to me. It changed my life. Before this, I was in a bad company and wasting my life, but since the lockdown started, it lit my life up in an awesome way. I was watching movies and series in the lockdown and suddenly realized that what I was doing with my life was imbecile and stupid. I realized acting was what I needed.
I learnt about improv and its exuberant effects on a person and got more enticed towards comedy. Then I started watching The Office and it brought me closer towards improv. I started to search for free improv classes as my family's economic condition is not good. I attended a couple of workshops and then emailed WIT for some help to which they generously offered me a lifetime changing Improv Level 1. I used to record self tapes and monologues, and now I am making a short comedic film by myself.
The place where I live, India, is a place filled with corruption at every possible level. It is all plagiarism and has no class or theater or any tool for Hollywood. Hopefully, by September my father will be able to collect a huge amount to send me for college in Canada because it the cheapest ( I would go America or U.K but they are expensive ) where I will continue learning acting for theatre for three years. I will earn the fee for the other two years, and someday be a successful Hollywood actor. I want to bring my parents to America, make them feel proud, fulfill their dreams and mine, and then help other people like me .
Of all the places you could start, how did you find WIT?
I found WIT through Google when I was searching for free improv classes and man it has helped me a lot. It is the best. The teachers and improv mates are so supporting, and I just don't have words. It taught me so much. I wish I could come America and be a part of the family.
What has your experience in class been like? What were you expecting it to be like and how did your expectations compare to the experience?
Well, let's say my experience in the class was like when you first learn to walk. It was the best feeling ever. I learnt a ton of things and comedy was one of them. It left me satisfied (that's what she said). [Ed Note: Steve Carrell would be proud.]
I was expecting it to be like a Zoom meeting where I will learn and study improv, but it was more than that. I learnt a lot of things like confidence, social skills, and comedy. I didn't feel jaded at all, rather it was the most ballistic thing ever. I learnt a lot of things and in the future when I hopefully will reach America I will be a part of the family and start helping people like me by investing in WIT for sure. 
What is it like improvising with people who are half a world away? 
Oh, it is funnnn. Awesome. Exuberant. Lively and scintillating. I learnt so much about the accents and their lifestyles and it gave me confidence and interactive skills and a lot of other things.
They were so supportive and the teachers too. They were so talented. They helped me a lot and I learnt so much from them all. I can't thank them enough.
Can you share anything you've discovered through doing improv?
I have discovered life, joy, comedy, acting, scenes, love and more. I always looked forward for that improv class every week with excitement because then I forgot everything and immersed in improv. I love it and it loves me. Improv is my life and so is acting. 
Can you share a favorite moment or highlight from class so far? 
Almost all the moments are my favourite. But if you ask to choose, I would choose when we do scenes. We all be someone else but at the same time ourselves. We all are vulnerable that time, it's so fun. I love it. Like a feeling in heaven. We laugh together and learn from our mistakes together.  I hope you have a good day. Stay safe. Will see you soon, really soon. 
Improv class can have a positive impact on anyone's life. Sign up for a level one class here.