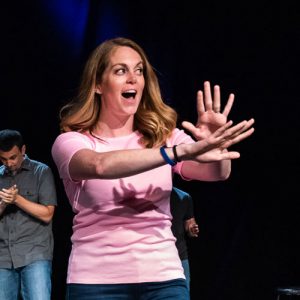 WIT seeks full-time Development Director
Support Wild Wild WIT: Contribute to our silent auction
Harold Team Auditions to Take Place on March 12, 14, and 15
Washington Improv Theater seeks a full-time Development Director. Reporting to, and collaborating with, the Executive/Artistic Director, this person will create and implement WIT's overall fundraising strategy, including grants, corporate support, events, and individual giving. This is a full-time, salaried position that includes health and retirement benefits. Salary in the $55-65,000 range.
Please find the complete job description below. Women and people of color are especially encouraged to apply. Washington Improv Theater is an equal opportunity employer.
In order to apply, please fill out the form at the following link, which includes uploads for a cover letter and a resume.
Deadline to apply is 11:59PM on March 22, 2020.
Job Description
Washington Improv Theater seeks a skilled and enthusiastic fundraising professional who shares our passion for making DC a creative and vibrant place to live, work and play. Help us engage and expand our community of supporters to fuel the personal and creative impact WIT is having in the District.
Your management and stewardship responsibilities will include:
Identify new opportunities for government and private foundation support; prepare proposals for general operating support and special projects;
Complete reporting requirements for existing government and foundation grants;
Research and cultivate new corporate donors;
Manage a pipeline of 600+ individual donors and build donor community through prospecting and engagement;
Oversee planning and coordination of one major and two minor annual fundraising events (recruiting and leading volunteer teams) and support smaller board-led fundraising events;
Serve as staff liaison with Board Development Committee;
Coordinate with team in designing and producing annual report.
In this newly created position, you will shape and implement all aspects of WIT's fundraising strategy as we continue to grow our community and our programming. Of WIT's $1M FY19 revenue, 25% was Contributed Revenue. You'll build on a strong foundation of successful grant writing and a passionately invested community. You'll collaborate with (and report to) the Executive/Artistic Director, while also liaising with and supporting the Board's Development Committee. This position will also help devise and lead a limited capital campaign in the near future to support WIT's move to a new, dedicated facility where we will expand programming.
Our History: WIT has been unleashing the creative power of improv in DC for over 20 years with performances that exhilarate and inspire 20,000+ patrons annually. Our revolutionary training program sparks personal development and fosters professional growth for thousands of Washingtonians each year.
Our Team: WIT has a fun, results-oriented and flexible team culture. We're a lean and nimble staff who can make decisions and move to implementation quickly and who value experimentation (and sometimes failure). Our values are: health, happiness, curiosity, collaboration, productivity, and donuts.
Requirements:
Bachelor's Degree
2+ years of development experience, preferably in arts
proven track record in cultivating donor relationships
strong communication skills
strong organization and time-management skills
strong attention to detail
Compensation: Salary range: $55K-65K commensurate with experience, with room for growth.
Benefits: 3+ weeks of personal leave, additional leave around the holidays, paid family leave, full individual health insurance coverage, matched retirement savings, and flexible scheduling including some telework. Plus free improv classes!
WIT is committed to creating a diverse environment and is proud to be an Equal Opportunity Employer. Candidates from diverse backgrounds and experiences are encouraged to apply.
To apply: Complete the brief form HERE, which will allow you to upload pdf files of:
a cover letter including what attracts you to this job and your available start date, and
your resume or CV.
Primary job location: Washington, DC 20009.
Published:
February 22, 2020