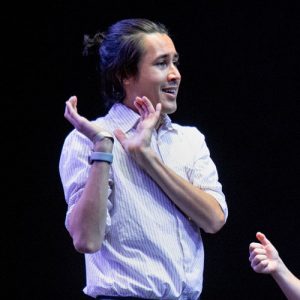 WIT launches series of free improv workshops for LGBTQ community
WIT's Board of Directors seeks creative go-getters to help take WIT to the next level
WIT awarded its largest-ever grant from National Endowment for the Arts
Sponsored by a grant by the DC Mayor's Office of LGBTQ Affairs, WIT has launched a series of free Improv for All workshops for the LGBTQ+ community. These 90-minute workshops will all be taught by LGBTQ+ instructors and are also open to allies of the LGBTQ community.
Upcoming workshops will be held at Studio Theatre on the following dates:
Feb. 18 at 12:30 PM
March 13 at 7 PM
April 8 at 12:30 PM
May 20 at 12:30 PM
June 3 at 12:30 PM
June 6 at 7 PM
June 17 at 12:30 PM
July 15 at 12:30 PM
July 29 at 12:30 PM
See our full list of Improv for All workshops, including this series, on our Improv for All page. Registration for workshops opens one month prior to the date of the workshop.
Published:
January 18, 2023