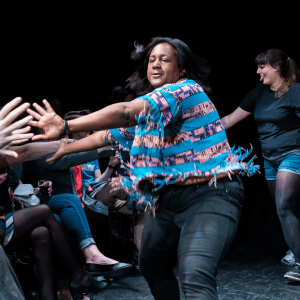 WIT joins DC-area theaters in requiring vaccines to attend indoor performances
AUDITION: Sign-ups open for new production (y)Our Town
And, Scene teams up with Too Much Damn Theater for digital episode
Washington Improv Theater is joining theaters across the greater Washington, D.C. area to ensure the highest level of public safety for our audiences, artists, staff and volunteers, by requiring that their audiences provide proof of COVID-19 vaccination to attend all live public performances at their indoor venues.
"Since we canceled all our shows and classes in spring 2020, we've committed ourselves to creating environments where people are safe," said WIT Artistic/Executive Director Mark Chalfant. "As we've started to resume in-person programming, we've always required proof of vaccinations. We're proud to join this list of theaters that share our value of ensuring the health and safety of our entire community.  We urge everyone to get vaccinated if they haven't been already."
You can view the full coalition of theaters at TheatreWashington's website. Per the mutual agreement, requirements for seeing a WIT show are listed below.
Attending a Show
Patrons must be able to show proof that they are fully vaccinated at the time of their entry into the theatres through December 2021. This end date is subject to change and will be re-reviewed by aligned venues in October. Masks will also be required for audiences inside the theatre, except while eating or drinking in designated locations.
"Fully vaccinated" means that either 14 days have passed since receiving the second dose of FDA or WHO authorized double-dose vaccines or that 14 days have passed since receiving the sole dose of FDA or WHO authorized single-dose vaccines.
Patrons may display proof of vaccination with a physical copy of their vaccination card, and theatres may extend other options to provide proof of vaccination as detailed on their websites.
Exemptions
Theatres will offer exemptions for those unable to be vaccinated, such as children under 12, people with certain medical conditions preventing vaccination, or those with closely held religious beliefs that prevent vaccination. These patrons must provide proof of a timely negative COVID-19 test—as defined by each venue—before performance start time.