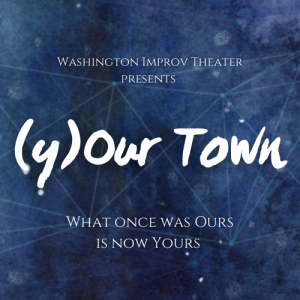 AUDITION: Sign-ups open for new production (y)Our Town
Jam with us! WIT to host multiple jams in connection with September Shows
WIT joins DC-area theaters in requiring vaccines to attend indoor performances
WIT is thrilled to announce auditions for it upcoming production of (y)Our Town, to be held Sept. 13, 14, and 15 at Source (1835 14th St NW). Virtual auditions will also be held on Sept. 16.
Inspired by Thornton Wilder's stage masterpiece, y(Our) Town will be a new, improvised show exploring the past as prologue and the future as endless and eternal possibility. The artistic team includes directors Bill Nelson and Matt Strote. Rehearsals will consistently fall on either Monday, Tuesday, Thursday, or Friday evenings from October through early January when shows begin.
The deadline to sign up for an audition slot is Friday, Sept. 10 at 11:59 PM.
Stylistically, the (y)Our Town team is seeking ensemble members that strive to create honest connections (joyous or otherwise) onstage, performances that feature distinct characters and moments of truthful sentiment. The team hopes to feature players who have playful, collaborative spirits, and the motivation to push boundaries when it comes to formats. We are searching for ensemble members with a couple of years of improv experience under their belts.
Questions? Contact Bill Nelson (nelsonkelley18@gmail.com) and Matt Strote (mstrote@comcast.net).
Published:
September 3, 2021