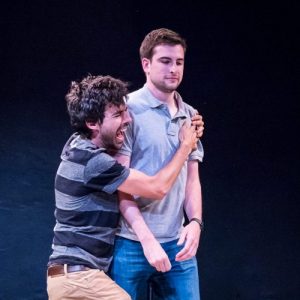 Jam with us! WIT to host multiple jams in connection with September Shows
VOTE NOW! WIT Nominated for Washington City Paper's Best of DC
AUDITION: Sign-ups open for new production (y)Our Town
WIT is returning to the stage in September! Our upcoming September Shows will feature all of our company ensembles as well as a host of mash-ups of WIT's improvisers.
In connection with these shows, we're hosting several jams including a musical jam on Saturday afternoon. Masks and proof of vaccination are required for attendance. Participation is capped at 30 people per jam so please pre-register to attend. Here's the line-up:
Jam One: Teachers and Performers — This jam is open to members of current ensembles, Harold teams, and official project shows as well as members of the WIT faculty and TA program. It will be held Sunday, Sept. 12 from 2 to 3:30 PM
REGISTER FOR THE TEACHER/PERFORMER JAM
Jam Two: All-Play — Anyone is welcome to join! All experience levels welcome. This jam will be held Sunday, Sept. 12 from 4:30 to 6 PM.
Jam 3: Musical Jam! — Led by iMusical's Ryan Brookshire and Mike O'Connor, this musical jam will be held Saturday, Sept. 18 from 1 to 3 PM.
All jams are pay-what-you-choose. We hope to see you there!
Published:
September 7, 2021