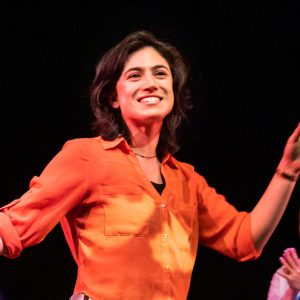 WIT extends residency at Studio Theatre for a second year
WIT updates masking protocol in response to public health guidelines, community feedback
Submissions for Improvapalooza 2023 are open
Washington Improv Theater is delighted to announce that we have extended our artistic residency at DC's historic Studio Theatre for a second year.
This means that Studio Theatre will remain home to all of WIT's performance programming through August 2024, including weekend shows, student showcases, Improv for All workshops, as well as weekly Harold Night shows and jams.
Harold Night will move from Wednesday to Monday nights starting on Monday, Sept. 11, 2023. In the upcoming year, approximately half of Harold Night performances will take place in main theater spaces being used for weekend runs.
"WIT's first year of artistic residency at Studio, which wraps up in August, dovetailed perfectly with our 25th anniversary, enabling us to present one of our most ambitious show runs ever," says WIT's Executive Artistic Director, Mark Chalfant. "It's been a joyful experience for our audiences to return to live theater, so we're very excited to stage our upcoming 26th season of shows at Studio."
Audiences can expect six runs between September 2023 and August 2024, which will take place in Studio's Stage 4 (a black box theater), and on Studio's Mead, Milton, and Shargai stages. WIT also plans to continue hosting regular, late-afternoon shows that highlight the many talented independent teams in our region. 
Weekend performances will, by and large, take place on Friday and Saturday nights. Next year's flagship productions are still being scheduled but here's a preview of some of what's in-store for our 26th season:
Six weekends of performances (Sept. 15 – Oct. 21, 2023)
WIT's End-of-Year Run (December 1-31, 2023 on the Milton Stage) Close out the year with a run of shows throughout December, including a special New Year's Eve performance.
Fighting Improv Smackdown Tournament (January 26 – March 2, 2024 on the Mead Stage) A beloved WIT community tradition, "FIST" (as we affectionately call it) is our no-holds-barred,  but totally friendly, improv tournament that pits the DMV's "best of the best" against each other. For our 16th tournament, audiences will be invited to help their favorite teams advance to the final round until there is only one victor! Read about the 2023 champions "Moonstruck 2.
Six weekends of performances (April 5 – May 11, 2024)
Six weekends of performances (June 28 – Aug. 3, 2024)
Improvapalooza (tentatively slated for August 14 – 18, 2024) Affectionately known as "Palooza," WIT's annual festival of experimental improv features innovative and unique new shows from hundreds of improvisers, including students, teachers, newer performers, and seasoned veterans of the improv community alike. It's fast-paced, off-beat, and packed with non-stop, daredevil shows spread out over two weekends.
WIT's improv classes will continue to take place in venues like the Latin American Youth Center and Universalist National Memorial Church. WIT's staff will continue to work remotely.
Stay in-the-loop by following us on social media (Facebook and Instagram) and sign up for our mailing list.
Here are two easy ways you can support WIT's work:
Sign up to volunteer

. We need help filming our shows and checking in audience members and helping them find their way to the right spot. Plus, you'll get to see a free show!

Become a monthly donor

. Sustained, individual support makes all the difference to our work. 
Don't forget: 
Washington Improv Theater is a 501(c)3 nonprofit dedicated to sharing the creative, collaborative power of improv in DC We are guided by the belief that improv is for everyone.