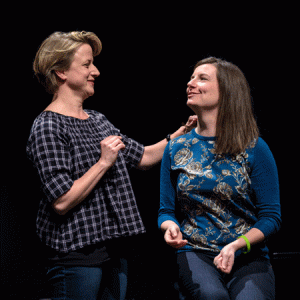 WIT company ensemble iMusical announces auditions
Q&A: Jive Turkey on how to make a great duo
Washington Improv Theater issues report on diversity efforts
WIT's veteran company ensemble iMusical will hold open call auditions on Thursday, January 4 and/or Saturday January 6. Callbacks are scheduled for Monday, January 8.
iMusical seeks cast members of both genders and encourages improvisers of color to audition. While the ensemble encourages any interested performers to participate in this opportunity, candidates with the best chance of success will probably have:
significant performance and/or classroom experience in comedic improvisation with an established improv theater company, either in "short-form" or "long-form" style,
prior performance experience in musical theater, and/or comfort and success with singing in public, and/or
a familiarity with our show, which combines the spontaneity of long-form comedic improvisation with the emotional power and integrity of modern musical theater.
The deadline to sign up to audition is Dec. 20.
More information about our show can be found at http://imusical.org and there are videos available on YouTube. If you have questions about your qualifications, please email the director at iloveimusical@mac.com.
Rehearsals are Monday evenings throughout the year, from 7 PM to 9:30 PM, usually at CentroNia (1420 Columbia Rd. NW). iMusical generally performs approximately 2/3 of the year on Friday evenings, seasonally, and performance venues usually alternate between Source (1835 14th St. NW) and DC Arts Center (2438 18th St. NW). Attendance at rehearsals and performances (until ready to perform) is mandatory. While pay is generally not provided, there are irregular opportunities for compensated performances, usually due to private/corporate events.
Published:
November 29, 2017