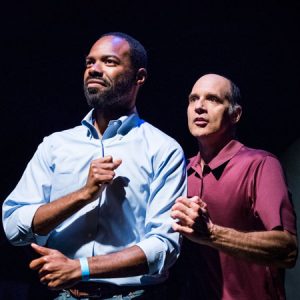 Washington Improv Theater issues report on diversity efforts
WIT company ensemble iMusical announces auditions
Q&A With Lauren Woody, WIT Performer and Children's Librarian
Washington Improv Theater has released a report detailing its ongoing efforts to improve diversity within its community. The report creates a snapshot of the progress WIT has made and goals the organization has set in the areas of gender, race/ethnicity, and LGBTQ diversity.
This report comes in advance of a community conversation on diversity in the greater improv scene in the District scheduled for Dec. 2 at 3 PM. The third such conversation convened by WIT, this meeting is open to all individuals to share their experiences, and to learn more about how diversity is being considered and pursued in the DC scene.
REGISTER TO ATTEND THE CONVERSATION
This discussion will be facilitated by Eva Lewis (Press Play, White Privilege Black Power) and will take place in the black box performance space at Source (1835 14th St. NW). The black box is on the ground floor and is wheelchair accessible.
Notes from prior community conversations on diversity can be found here: 2.12.17 conversation ,12.10.16 conversation. [Update: Notes from the 12.2.17 meeting can be found here]