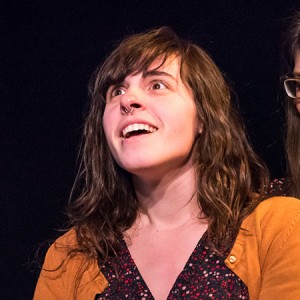 Q&A With Lauren Woody, WIT Performer and Children's Librarian
Washington Improv Theater issues report on diversity efforts
The October Issue is reborn as Hellcat
Lauren Woody had never done theater of any kind before starting improv. Now, in addition to being on WIT's Harold team LIZARD GIRL, she works as a children's librarian, where no one day is the same! Read on to hear about Lauren's job and and how improv has helped her in her professional life.
How did you get involved with improv at WIT?
I moved to DC for my job and only knew a couple of people in the area. I had taken two improv classes when I was finishing up grad school in Seattle and had a good time, so I decided to look for some classes in DC. I figured improv would be a good way to both experience some continuity in my life at a time when I was experiencing a lot of change and also maybe meet a few friends.
Describe a regular day in the life of a children's librarian.
On a weekday morning, I'm likely to be leading story times for babies, toddlers, and preschoolers. A large part of my focus is the birth to five age range, meaning that the children themselves aren't reading yet, but they are developing really important pre-literacy skills, so story times consist of book-sharing and also a lot of songs, rhymes, movement, instruments, puppets—activities that encourage the building of that skill set. In the afternoon, I might be leading a science program for school-aged kids or working on the reference desk to help connect people to resources, information, services, and books they might like. In between all the public-facing time, I communicate with school and community partners, keep the collection in good shape by weeding obsolete materials and items in poor condition, get new items on the shelf, plan and prep for programs and outreach events, work on promotional materials… every single day is different, which is one of the things I love the most about my job.
What have you learned through improv that has helped you with your professional life?
The most important thing it's helped with is imposter syndrome, which is basically just the feeling that you're a fraud or that you're not qualified. I've had a serious case of it. I'm a first-generation bachelor's degree-holder and my work for about a decade was mostly in retail and grocery; I didn't really have a sense of my background or myself as "professional." I felt—and in some cases, it was true—that I didn't have the vocabulary, knowledge, connections, etc. that my classmates and colleagues had in terms of academic and career success.
In improv scenes, though, you're supposed to talk about things like you know about them, even if you don't. If my scene partner endows me as an astronaut, I know how to be an astronaut. If I'm doing surgery or fixing a car, I know how to do those things on stage, even though I have no clue how to do them off-stage. That hasn't been easy. I clearly remember having a major freak-out at a rehearsal when a teammate called me a lawyer, improv-slapped down a contract in front of me, and told me to read it. I froze, stopped the scene, nearly cried. But I've had some great coaching and watching other improvisers do that magic on stage and in rehearsals has been so, so valuable. As I've intentionally worked on that skill in improv, I've thought, "Wow, in my professional life, I do know what I'm talking about, certainly more than I know about being an astronaut. I should talk and act like it." I've been able to noticeably translate that confidence from the stage into professional interactions, and also into how I perceive myself, telling myself that I'm competent and I know what I'm doing.
On the other hand, what skills do you use a children's librarian that help you when you're performing improv?
Definitely a sense of play and fun. Because part of my job involves being silly, singing, performing in front of people, I'm not very nervous about those things. I'm in practice. And I think all the customer service jobs I've had help with the agreement part of improv. It's not as hard for me to focus on my scene partner, agree with what they're saying, and play peas-in-a-pod with them as maybe it would be if I didn't have lots of experience focusing on customers and approaching them as if we're on the same team.
No matter your job, you can learn something through improv: sign up for a class!
Published:
November 3, 2017