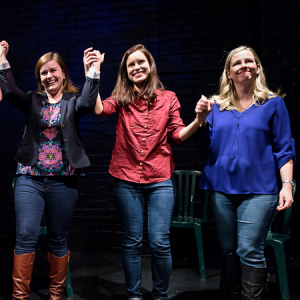 The October Issue is reborn as Hellcat
Q&A With Lauren Woody, WIT Performer and Children's Librarian
Introduce your business to WIT's community: Become a sponsor
After more than two years of performing an improvised magazine, WIT's all-female production The October Issue has been reborn as Hellcat. Originally conceived as WIT's contribution to the citywide Womens Voices Theater Festival, The October Issue has continued performing in WIT's runs ever since.
Moving forward, the project will go by the name Hellcat and the cast will perform a new format that enlists storytellers and presenters who will share embarrassing past moments. With help from old journal entries, AIM conversations, awkward emails, poems, or various types of art, the guest storytellers paint a picture of their past selves. Hellcat pulls themes and premises to create a montage that honors the storyteller.
The cast of Hellcat is Jenna Hall, Justine Hipsky, Kaitlin Kemp, Clare Mulligan, Molly Murchie, Krystal Ramseur, Donna Steele, and Kaelan Sullivan.
Hellcat performs as part of the WIT Road Show on Nov. 9.
Published:
November 3, 2017