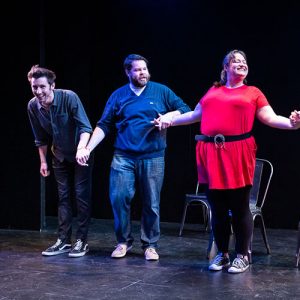 We Want Your Stories: Share the impact of WIT's programming from the past year
Audition: WIT ensemble The Hypothesis seeks new members
Now Calling for Directors Series and Launchpad Show submissions!
Calling all students, teachers, performers, audience members, and so on! How has being a part of the WIT community impacted you over the past 12 months? We're looking for anecdotes, testimonials, and other stories from over the past year.
We want to know how WIT's programming made life better for you and/or people you know. For instance, did you:
find a new creative pursuit that was facilitated by WIT in some way?
form a new friendship from a class you took or team you joined?
find connection and community from people you met by doing a WIT activity?
These stories go a long way to help us share our impact. We may use them in our upcoming annual report (July 1, 2021-June 30, 2022) or in materials for when we apply for grants. Stories could also be shared on social media or serve as the basis for a larger story for the website.
Fill out as many of the questions below as you wish to convey your response. These are all meant as mini-writing prompts.
We're looking to finish story collection by Aug 5. If you submitted a story on a similar form last year, feel free to submit again with your new experiences.