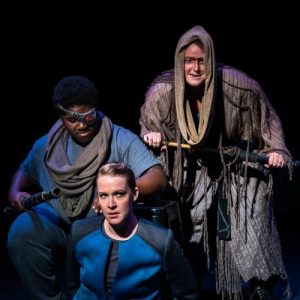 Now Calling for Directors Series and Launchpad Show submissions!
We Want Your Stories: Share the impact of WIT's programming from the past year
Audition: WIT ensemble Nox! seeks new members
While WIT is still finalizing venue plans for the season starting in September 2022 (after we depart Source), the time is right to reboot WIT's Directors Series and Launchpad show pipelines.
If you have a creative idea for a show you would like to direct or co-direct at Washington Improv Theater, the Directors Series and Launchpad are two platforms designed to make that happen. Maybe one of your Improvapalooza ideas could be an awesome feature-length show? Maybe you have an idea for a completely new format that you've been yearning to try with an audience? Now is a great time to make these visions reality.
The DIRECTORS SERIES gives a platform and technical assistance to a director/s with a vision for a new show they wish to realize, helping them to audition, cast, rehearse, shape, and present their show. Typically a Directors Series show will present multiple curtains concentrated within a performance series. After that, the show closes (these shows are not intended to become ongoing ensembles or projects). Examples of Directors Series shows include Starship Odyssey and In Lieu of Flowers.
LAUNCHPAD is designed to get new work on stage faster than the Directors Series process typically allows. These projects are typically a single pilot performance, or multiple shows spread over time learning from each iteration. For Launchpad shows casting may be fast-tracked without auditions.
Submissions are accepted on a rolling basis with deadlines at 11:59 PM on the last day of each month. So Sunday, July 31, 2022 is the first deadline, continuing monthly thereafter. These projects may need time to develop and schedule in advance, and there is a limited number of projects we can do each year, so you're encouraged to submit as far in advance as possible.