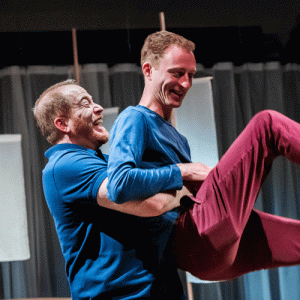 Audition: WIT ensemble Nox! seeks new members
Now Calling for Directors Series and Launchpad Show submissions!
Improvapalooza 2022 Accepting Submissions Through July 5 at 11:59 PM
WIT ensemble Nox! will hold auditions for new members on Saturday, Aug. 13 and Sunday, Aug. 14 at Source (1835 14th Street NW). Nox! is especially interested in diversifying its voices, strongly encouraging people of color, LGBTQIA+ people, women, genderqueer, and nonbinary people to audition. The venue for auditions is on the ground floor and is ADA accessible. 
The deadline to sign up for an audition slot is Sunday, July 31, 11:59 PM. Callbacks will take place on Tuesday, August 16 at Source (1835 14th Street NW) and/or Tuesday, August 23 at LAYC (1419 Columbia Road NW).
Please review the eligibility requirements for auditions below BEFORE signing up.
Auditioners should:
Possess a minimum of 2 years performance experience OR completed formal training in performance/theatre/improv.

Have the availability to rehearse every other week on Tuesday evenings from 7:30pm-9:30pm.
We're looking for cast members who can demonstrate a combination of the following:
Variety in characters with emotional commitment 

Bold and high-stakes choices

Ability to make your scene partners shine 

Skill to track characters, scenes, and themes to look for fun connections throughout a show

Investment in individual and team support and success, on and off stage

Confidence to be unabashedly yourself by demonstrating your ideas and comedic voice
Auditioners must provide documentation of being fully vaccinated against COVID-19 including a booster shot (please see note about exemptions on the WIT page on COVID-19 safety).
Finalized audition schedule will be emailed to all eligible individuals no later than Sunday, August 7. Audition slots are limited, so if necessary, priority will be given to the most experienced improvisers and those who best align with the ensemble's recruitment goals.
About Nox!
A long-running WIT ensemble, Nox! thrives on creating shows that are simultaneously patient and high energy, yet fearless in going physical and dark. We enjoy experimenting with different structures, and have created original formats as well as our take on existing ones. We love the hell out of each other, with a side of gleeful roasting. We respect that we are adults with day jobs, but we stay connected daily. We take pride in our radical support of each other and are able to have honest conversations with one another, which can be difficult in the moment, but always leads to us growing closer as a group. Come play with us!
Sample recent* Nox! performances: 
* pre-COVID. There's been a pandemic!
Current cast: Brianna Lux, Chris Ulrich, Geoff Corey, Jenna Hall, John Heiser, Matt Winterhalter, Nina Hsu, Sean Paul Ellis
Questions about auditions can be directed to Nina Hsu (ninashsu@gmail.com).