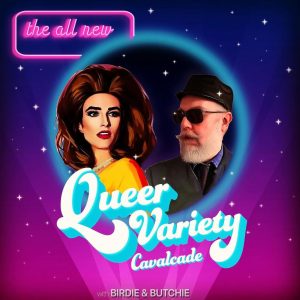 QVC: Queer Variety Cavalcade debuts with special guest Japer Bowles
LIMITED TIME SPRING SPECIAL: One-hour Online Improv Team Connection Workshop
"And, Scene!" teams up with Studio Acting Conservatory for eight performances
In the grand tradition of variety show legends Sonny & Cher, Donny & Marie, and Captain & Tennille… The All New Queer Variety Cavalcade is coming your way on April 7! Structured like a traditional televised-live variety show, with a little John Waters flair, QVC features queer talent across performance disciplines: music, dance, drag, magic, burlesque, spoken word, ventriloquism… any talent we can discover. And, of course, improv!
Produced and hosted by WIT improvisers Kevin Eggleston and Bill Nelson (dubbed "Birdie" and "Butchie"), the hour-long show features three performances by queer artists and an interview with a guest important to the queer community. 
Guests for the debut performance of QVC are:
Drag Artist Hennessey

Drag King CC the King

Stand-up comedian Andie Basto

Guest interviewee: Japer Bowles, director of the DC Mayor's Office of LGBTQ Affairs
In addition, the all-LGBTQ cast of the QVC Players (including Diego Hernandez, Caroline Howe, Patrick Hsieh, Carlic Huynh, Mike Kopalek, Rae Lang, Hannah Piper, Joey Scully, Mikki Smith, and Renan Snowden) will perform an improv set that draws inspiration from a Drag Story Time reading by Dickolas Cage.
Keep in mind, tipping acts is a long time tradition in queer performance spaces, and the audience (18+) is encouraged to bring some singles and fivies to show their love!
The team Out Loud will perform as the opening act for QVC. Out Loud features Samiyyah Ali, Geoff Corey, Madeline Dozier, Darnell Eaton, Devin Hiett, Nick Martinez, Clare Mulligan, and Krystal Ramseur.