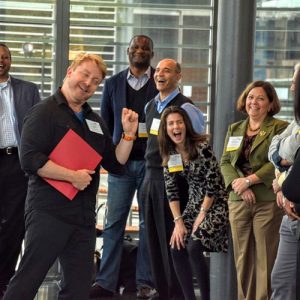 LIMITED TIME SPRING SPECIAL: One-hour Online Improv Team Connection Workshop
Support WIT's fundraiser: Contribute to our silent auction
QVC: Queer Variety Cavalcade debuts with special guest Japer Bowles
Looking to boost your team's morale and enhance collaboration? Searching for a unique way to celebrate spring with your office?
Introducing WIT@Work's special one-hour Team Connection workshop, designed to foster team connection and promote valuable learning in your work environment. Available at a reduced cost exclusively for the months of April and May, this engaging experience combines key improv concepts with practical application for a stronger, more connected team.
For a flat rate of $500, WIT@Work Director John Windmueller will guide your team through a fully participatory session. John has over two decades of experience leading professional skills-building workshops for teams ranging from small nonprofits to Fortune 500 companies. The workshop is low-pressure, high fun, and seamlessly delivered via Zoom.
Discover the power of team connection with WIT@Work. Our workshops utilize the principles of improv to strengthen creative collaboration, communication, trust, empathy, and teamwork. Reap the benefits of a connected and joyful team – a worthwhile investment for any organization.
Schedule a session today: Fill out our interest form and we'll get back to you within one business day.