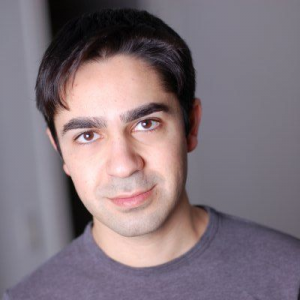 Q&A with Zhubin Parang: Daily Show Head Writer Discusses His Roots at WIT
3 improv games to play with your kids
Submit your team for FIST 2016
WIT alum Zhubin Parang is the head writer for The Daily Show With Jon Stewart. He began his long-form improv career with WIT, where he was a member of the long-running ensemble Jackie and festival favorite Dr. Fantastic. He is an alum of the Upright Citizens Brigade Theater Maude teams Thunder Gulch and Charlemagne and the Harold teams Raynard and The Bishop and his writing has been featured in McSweeney's and The Onion. Prior to becoming a full-time comedian, Zhubin was — wait for it — a lawyer, which explains his web series, Approach the Bench. Read on to find out how he made this career switch, and how he uses improv in the writers room. You can follow Zhubin on Twitter at @zhubinparang.
What inspired you to take your first class at Washington Improv Theater?
I had been in improv troupes in high school and college, but they were all short-form, and toward the end of college I was learning more about longform and eager to try it. I came to DC for law school, and when I found out that WIT offered longform improv classes, I signed up immediately, because law school is famously a low-time commitment.
Did you like long-form improv right away?
I loved it. I think the surprising thing was how liberating long-form improv is after learning short-form games. The hard part is realizing that the total freedom requires absolute clarity with your teammates and intense listening to their ideas. I wanted to pitch and advance my own ideas, and I had to learn how to share.
How do you use improv in your work as a television writer?
Writers rooms are entirely about pitching ideas and building on them, which is all improvisation ultimately is. I use those skills all the time, to identify what I find funny in an idea and adding what I think is funny.
You went from being a law student, then a lawyer, who did improv on the side, to becoming the head writer for The Daily Show. Tell us a little bit about how comedy inched its way from the sidelines to the center of your life. Was there a moment when you decided to take the plunge? If so, what inspired that?
I always had improv in my life, and comedy grew slowly from a hobby to a job as I began crossing out all my other options. As I went through my twenties, I slowly learned that I didn't want to be an academic or a lawyer or go into politics, I just wanted to do comedy all the time. And after I moved to New York and spent some time in the comedy scene, I thought I was good enough at it to give it a shot as a career. So it wasn't an exact moment as it was a growing resignation that I'm just gonna have to be a professional comedy writer, whether it'll feed me or not.
What advice do you have for someone who's doing improv and wants to get into writing for TV?
Start writing right now. Improv is great, but what you need to do is grow writing muscles. Do sketch writing or stand-up or whatever that lets you write jokes as much as possible and get them in front of an audience.
What's the last thing that made you laugh out loud?
I just read a Clickhole article titled You Always Think Of Your Father As Invincible Until Muhammad Ali Comes To Your House And Uppercuts Him Through The Ceiling and I was crying I was laughing so hard.
We dug deep in the archives to find this video of Zhubin performing with Dr. Fantastic back in 2010 — enjoy!
Make your triumphant start in comedy by signing up for a Foundations of Improv class at WIT!