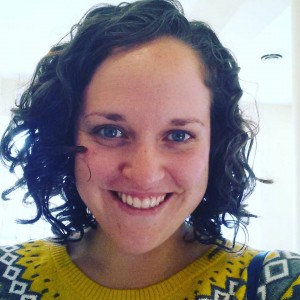 Q&A with Heather Marie Vitale: The friendly face behind the front desk
Submit your team for FIST 2016
Get your business in front of FIST's 3,500 audience members
Catching up with WIT student and front of house manager about coming home to improv, karaoke and more. 
You did improv in high school, but then you took a break from it for a while. Why? And then, what inspired you to pick it back up again this past fall?
My undergrad school has a very strong performing arts program. You had to be really serious (and seriously talented) about performing to get cast in anything, even the comedy troupes (I mean, people like Denis Leary and David Cross came out of these groups). I was probably intimidated by the sheer talent of my classmates. I have always loved improv, and started coming to WIT when I moved to DC in 2013. My best friend used to run the front of house (ed note: Holla at Christine Colburn!), so I'd go to hang out with her and have some laughs. After taking over for her at the front of house (I thought it would be a fun place to spend my evenings), I was just so inspired by everyone that I signed up for a class. I fell in love with the people and the community almost instantly, and haven't looked back since.
What do you get to see your vantage point as Front of House Manager about the whole WIT experience, that other people might miss?
A huge benefit of the front of house is that you interact with everyone. I get to see the players as they head up for a show, and share their sense of happiness and relief after a good show. I get to talk to audience members, hear their stories, and work on further expanding the community. It's a great chance for someone who is interested in WIT and the improv community as you get to know absolutely everyone.
Has getting involved with WIT changed your perception of DC in any way?
It's made me further appreciate the strength of the arts scene in the District. It also helped me get out of the job-focus paradigm that plagues all of us: in DC, when we meet anyone, we always ask what people do. I barely know what many people at WIT do, career-wise, and I am happy to keep it that way.
So, do you think of improv as a way of having a life that's completely separate from your career, or does it help you with your work in some way…or both?
I think improv provides you with some serious life skills, particularly listening. It helps me in my personal and professional lives to be more creative in my problem solving and thinking, and to not fret about being perfect. Well, I'm still working on that last one.
You're a big karaoke fan, so, we need to know: What's the best karaoke bar in the area, and why? What's your go-to song?

If you like private room karaoke, then it has to be Muzette in Adams Morgan. Otherwise, Madam's Organ (again in Adams Morgan) has kickass karaoke on Thursday nights. I have several go-tos, but the all-time favorite is David Bowie's "Suffragette City."
What's the last thing that made you laugh out loud?
An old Comedy Bang! Bang! podcast (RIP Harris Wittels).
If you want to get tickled to high heaven seeing WIT's performers, come see a show! Check our calendar for the latest listings.
Taking a class at WIT is a great way to meet new people and unleash your creativity. Sign up for a level one class today!