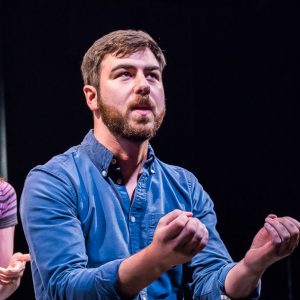 Q&A: Michael Hendrix talks about his bold new production Citizens' Watch
Ray Simeon: The unseen cast member of Citizens' Watch
Matt Berman remembers a pair of iMusical's star-crossed lovers
In WIT's new improvised drama Citizens' Watch, everyone is a murder suspect. Inspired by the British TV series Broadchurch, the show follows a murder that takes place in a closely-knit small town. Even the innocent townspeople have dark secrets of their own.
Citizens' Watch Director Michael Hendrix took some time to talk about the tone of the show and how he hopes audiences will react to the darkest show WIT has tackled to date.
The idea for this show came from Broadchurch, a dark British TV series about a murder in a small town—what made you want to translate this into an improvised performance?
I had binge-watched Broadchurch soon after it came out. And I was so hooked—so sucked in. Then I forgot about it. The next month I decided I really wanted to create and direct an improv show, but that it had to be something different enough that all the awesome improv groups in DC weren't already doing (cue a montage of terribly hokey ideas, paper basketballs next to the trash can).
But as soon as I remembered Broadchurch, I realized that so many of the elements in the show could be really powerful onstage, and would be so much more interesting if it were made up on the spot.
This show is largely dramatic, but will there be any humor at all?
Oh definitely, I promise. But not because of me. This is a cast of really funny, really smart folks, and humor is in their instincts. I think the humor, when we're doing it right, is coming from a really different place than most improv. It comes from the characters themselves being funny out of sincerity, either because they are in a stressful situation, or because the improvisers have created a character with a good sense of humor. And there's so much tension to break in this show, I think it's ripe for moments of laughter.
You've got an eleven-person cast—what has the rehearsal process been like? Has any part of your vision changed over the course of the rehearsals?
I'm super grateful to the cast of this show. They're so talented and so experienced.
As nervous as I've been about directing this, knowing that these would be the people living it onstage was a huge confidence booster. There were so many times in rehearsal when I'd say something like, "Ok, so here's how we're going to run this part." We'd run it, and it would feel awkward or wouldn't make sense. Whenever that happened there would be minimum two people already with this light bulb coming on suggesting, "Hey, what if we did it this way…" and that way would be better. Moments like that have really made the show what it is.
What are some of your favorite moments from the rehearsals so far?
So much. At one point, we all realized that the show involves a murder but none of us are murderers, so we spent some time practicing how to make stabbings et cetera look good on stage. Not cartoonish, but dramatic. That was some dark fun. I also really enjoyed having our first dress rehearsal on Source stage with lights. Our lighting and sound guru, Ray Simeon, is improvising the tech in so many ways, he's really the tenth performer of this show, and so key to the ambience.
How do you hope audiences will react to the show?
That's honestly what I'm most eager to see. I really hope when people leave the theater it's the emotional equivalent of eating something that was spicier than you had expected. At the time you wonder "Whoa, did I sign up for this?" Then you start sweating in places you don't usually sweat. But then afterwards, it's a release, and you feel like "Wow, yeah, that was a delicious flavor." Maybe catharsis is a more succinct answer to that one.
Who's the killer?
I will find out when you do.
Citizens Watch debuts Dec. 3. Get tickets during Seasonal Disorder.
Published:
November 29, 2016