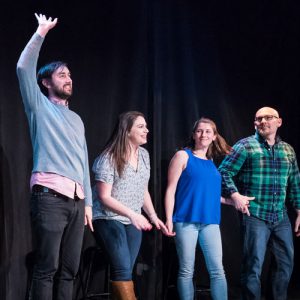 Madeline to become Washington Improv Theater's newest company ensemble
Audition Time: Bits of Wisdom from WIT Performers (Part one)
Harold team auditions slated for May 14
Washington Improv Theater's most senior Harold team Madeline will become the theater's newest company ensemble. Madeline is made up of cast members John Carroll, Isabel Galbraith, Yaelle Grant, Jonathan Murphy, Dan O'Neil, Liz Sanders, Macey Schiff, and Patrick Slevin.
Artistic Director Mark Chalfant made the decision to promote the team in consultation with members of the WIT player's council, which includes representatives of the other six ensembles.
"Anyone watching a Madeline show can see how they relish playing with one another," he said. "Their chemistry is like a great recipe where you love the individual ingredients, and then you love what they do together even more. And you eat it all up and you're a little sad at the end of a show when it's over and there's no more left. They've done some super creative things inside the Harold format—I look forward to seeing what they'll do with another format entirely."
Having coached the team for the past two cycles of the Harold program, Kate Symes will continue as Madeline's director. John Windmueller coached Madeline for its first four cycles.
"Since coming on board to coach Madeline last September, I've seen them grow and bond in a way I've rarely seen with any other improv team," Symes said. "They constantly push themselves and each other to be better, and they support the hell out of each other on and off stage. It's been such a pleasure to build off the great work John Windmueller did with Madeline. I couldn't be more proud of this super deserving group of improvisers."
Madeline's last show as a Harold team will be May 31, followed by a special jam with team.