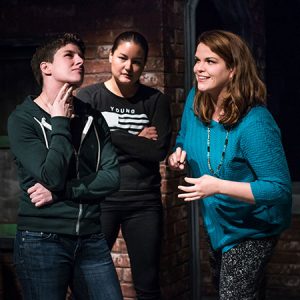 Audition Time: Bits of Wisdom from WIT Performers (Part one)
AUDITION TIME: BITS OF WISDOM FROM WIT PERFORMERS (PART Two)
Madeline to become Washington Improv Theater's newest company ensemble
This article is the first in a series called You Do You: Taking Charge of Your Improv Destiny. Each article will focus on a different aspect of the improv world that exists outside of classes, including forming indie teams, finding a coach, and more.
Auditions are notoriously nerve-racking experiences—everyone wants to shine and, in the moment, the stakes seem huge.
Sometimes it works out, sometimes it doesn't. But the attitude you go into the audition room with (and the attitude you leave it with) can mean everything in terms of your long-term improv goals. In fact, many of the people on WIT's stage have been able to turn unsuccessful auditions into an opportunity to dig into their craft and return stronger than ever.
We talked to members of our ensembles and Harold teams about their audition experiences and how they approach them going in.
Adam Koussari-Amin (Richie)
Always think win-win. You either have a successful audition, or, if things don't work out, you had a ton of great practice in a "competitive" setting and can get that much more comfortable with the reality of auditions. So much goes into the execution and selection process, you can't let everything rest on your performance alone (although you can learn from it for next time).
When I didn't make Harold after my first audition, I doubled down on indie work. It's easy to think that completing the curriculum means a guarantee on a Harold team, but it's like business school; Harold teams benefit greatly from folks who have stage experience, have learned a lot about their play, and have gotten comfortable performing versus practicing.
Paul Hitlin (King Bee) – "People holding auditions are rooting FOR you"
I think I stole this from Mick Napier's book. Maybe not. Regardless, I realized that unlike a lot of situations, people holding auditions are rooting FOR you, not against you. They want people to be great and blow them away. They've been sitting through hours of decent improv, but want someone to do stuff they haven't seen before that is creative and different. So why not try to be the person they've been waiting for?
Aaron Merrill (Blot) – There's no penalty for going for it.
I always try to remember that the worst that can happen is … nothing. Literally nothing will change. I'm already not in this thing, and a bad audition won't change that. The worst that can happen is that the status quo continues. There's no penalty for going for it.
Katie Ozog (Richie) – "I hid the email in a folder buried deep in my Gmail archive"
The first time I auditioned for Harold, I didn't make it and I was very disappointed. I hid the email in a folder buried deep in my Gmail archive in an effort to forget that it even happened. I went into that audition with a lot of expectations and put a crap ton of pressure on myself . Even though I hid that email away, I couldn't forget what it said. Mark gave some broad suggestions as to why an auditioner may not have been cast—one that stuck with me was "brand new face". I realized that I hadn't been putting myself out there in the indie world and that getting stage time was an important part of the audition process.
The more you put yourself out there, the more people get to know you and your style. Also, it can really help with nerves. Get on a stage (ANY stage) and practice, practice, practice. By the time I auditioned again, I had logged quite a few hours of stage time and felt more confident in my abilities. I also ended up taking a Harold class again as a refresher which was a nice way to get back into the swing of things before trying out for a second time. Spoiler alert: I've been with the Harold program for almost two years now!
J.J. Jackson (Thank You For Sharing) – "I basically went on in my improv journey with as much gusto"
I didn't make it into Harold the first time I auditioned. I basically went on in my improv journey with as much gusto. I went to Chinese Menu, Happy Buddha, DC Improv and WIT workshops; I went to Bagelz & Jam and Improv Sandbox jams; practiced with my indie troupes; continued going to Harold night, etc. In addition, I formed a Harold practice group and hired a coach. This group eventually became an indie team, which gave me lots of practice.
John Heiser (Nox!) – "I knew I wasn't ready the first time around"
For my first Harold audition, I was clueless. I had anxiety, especially after 4 or 5 people filed in to "judge." During the Harold, one player initiated that women of color tasted like their ethnicity. I was mortified, fading into the hedges like that Homer Simpson GIF. Sara Rouhi shut that down so fast. It was great to watch more seasoned improvisers handle that. I learned during that audition. For the second one I was confident and I understood the process.
I knew I wasn't ready the first time around. I was not at the level of the people in that first audition. I did it so it so that when I was ready it wouldn't be my first audition ever. I also wasn't very well known to WIT folks. I hadn't taken any classes there. After that I went to Harold night more often. I stayed for jams way more often. I attended WIT social functions like the anniversary party. That night I met Matt Berman, Jordana Mishory, maybe Xavier Hernandez too, for the first time. I also continued my education as best I could through workshops and learning at other theaters. Something Pete Bergen said in my first Chinese Menu workshop stuck with me. "Everyone in DC wants to play. No one wants to practice". That set me on a path to practice as much as I could and get better.
Veronica Norman (Not Great With Kids) – "I really grew once I decided not to care what anyone thought of me"
After auditioning unsuccessfully for Harold right after the completion of L5, the most important things I did were to (1) form an indie troupe with friends, (2) read the UCB Manual, (3) decide that I was going to quit caring what anyone thought of my improv skills/choices, and (4) watch good improv. Not only did I learn a lot from my indie team's coach, but because I was never very comfortable on stage while I was in the WIT program, doing the performance reps with my indie team really helped me be at ease performing in front of people (I no longer get nervous before performances). And I really grew once I decided not to care what anyone thought of me, because being afraid of making stupid or unfunny moves was causing me to be in my head and hold back too much.
Finally, watching examples of good improv (e.g. WIT's ensemble performances on YouTube) helped me put everything I was learning together, and better understand what good improv looked like. My second Harold audition was successful, and I really think it was due to the combination of the things I did after being rejected the first time.
Geoff Corey (Not Great With Kids) – "Watching improv is so important to getting better at it"
First, I say jump out and take initiative. Even if the scene goes awry, you'll be rewarded for being brave and supporting whoever was out there. Second, I don't try to be creative. Instead, I remember three key things: 1. Agree with your scene partner (don't fight). 2. Ask yourself "what do I want in this scene?" And 3. Instead of adding details, just react to the details your scene partner is giving you – no matter how small.
Watching improv is so important to getting better at it. If I haven't seen any live shows in one week, I try to watch a team I love on WIT's YouTube channel. That way, I'm seeing at least one show a week.