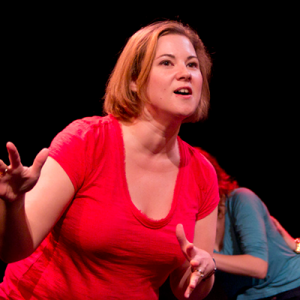 Karen Lange remembers iMusical's take on Gorillas in the Mist
Jaci Pulice remembers an iMusical prison break
Q&A with POTUS Among Us directors Mark Chalfant and Melanie Harker
On Nov. 20, Washington Improv Theater company ensemble iMusical celebrates ten years of creating spontaneous musical theater. iMusical's Tenth Anniversary Celebration, to take place at the GALA Hispanic Theater in Columbia Heights, is a fundraising performance that will feature the ensemble's current cast as well as special guest alumni. All proceeds go toward supporting WIT's creative programming including shows like The October Issue and POTUS Among Us.
Leading up to the big night, we've asked some iMusical cast members and fans to remember some of their favorite iMusical memories over the past ten years. 
Founding iMusical alumna Karen Lange writes:
One scene I loved was the Gorillas in the Mist "scene into song" with Emlyn McFarland, Mark Chalfant, Dan Milliken, and Bryan Jackson. It took place during the run in the summer of 2014 when we were doing a show based on Craigslist Missed Connections. Emlyn was a character who studied gorillas and was obsessed with finding a human mate who could be her "silverback male." The song then explained her fascination while the three men got up on a platform, banged out a rhythm, and sang grunting background as gorillas.
It was such a beautiful transition from one type of moment into something completely different. The song was honest and heartfelt and this chorus was just so theatrical and deeply funny. Emlyn's character had dignity and while the gorillas weren't specifically played for laughs, they were the perfect addition to the scene and the song. It brought down the house.
I had an amazing 10-year run in iMusical and I'm so proud of what we made together. Being cast in the show helped me find a place to use this weird talent I have and found others who had it. Goes to show that, sometimes, you can find your people and spend a decade doing something that puts joy into the world.
I'm so grateful for every moment I've had with the ensemble, onstage and off. There is no feeling quite like creating a song from thin air and then having people sing along with it. It's like a fantasy come true—a beautiful dream.
Published:
October 27, 2016