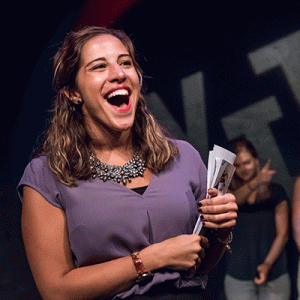 Jaci Pulice remembers an iMusical prison break
Matt Berman remembers a pair of iMusical's star-crossed lovers
Karen Lange remembers iMusical's take on Gorillas in the Mist
On Nov. 20, Washington Improv Theater company ensemble iMusical celebrates ten years of creating spontaneous musical theater. iMusical's Tenth Anniversary Celebration, to take place at the GALA Hispanic Theater in Columbia Heights, is a fundraising performance that will feature the ensemble's current cast as well as special guest alumni. All proceeds go toward supporting WIT's creative programming including shows like The October Issue and POTUS Among Us.
Leading up to the big night, we've asked some iMusical cast members and fans to remember some of their favorite iMusical memories over the past ten years. 
iMusical alumna Jaci Pulice writes:
Back during the 2015 FIST run, we had a show where Bryan Jackson's character was wrongfully imprisoned for murder. Dan Milliken initiated a song mid-show as his court-ordered therapist and talked him through the decisions that led him to this place.
Travis set the tone for the moment with beautiful music while Dan constructed a singing therapy session. His melody choice was gorgeous. Bryan remained perfectly vulnerable and convincingly built his self-realizations lyric by lyric. Meanwhile, Matt Berman entered as as supporting character and starts doing silent object work to the side, as a fellow prisoner.
The song is aptly titled "Free Yourself." On one level it was Dan telling Bryan to free himself of the choices he has made up until this moment. But then there is a second level, one the audience is not so aware of until Matt's object work that he's been doing off to the side leads to an ACTUAL presented path of escape for Bryan. Bryan, with the aid of Matt, literally freed himself from prison. It was such a twist on the emotional moment of the number and yet an incredibly empowering choice.
The complete AWE of the audience was audible when they realized what Matt had been doing since he entered the scene. Watching from the wings, I was more focused on the duet more than the object work Matt was doing—so even I was shocked! I have rewatched the clip of this moment over and over again for many reasons: Dan's beautiful song, Bryan's vulnerability and true surrender to his character and then Matt's incredibly supportive move. It sneaked up the emotionally invested audience and caused them to erupt in applause. They rooted for the protagonist and the sheer noise they made is amazing when you think they had only known the character 24 minutes.
My favorite iMusical moments all have heart and the songs that have stuck with me are the ones with emotional truth and weight. Haven't we all wanted to "free" ourselves? Maybe from a relationship or job or bad habit. iMusical brings realities to stage and makes people laugh, applaud, gasp and sometimes (if you're like me) cry. This song does all of that and I felt honored to play with a cast that continually championed that endgame.
iMusical's Tenth Anniversary Celebration is an exciting night for our community. We are performing at a historic DC theater and proceeds from our tickets serve the purpose of bringing improv to every corner of the city. More laughter and more heart spread across the district? Let's do it.