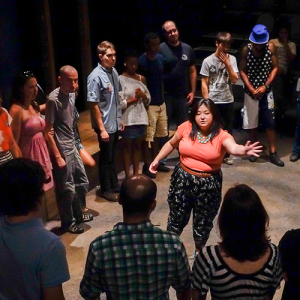 Job Posting: Washington Improv Theater seeks education manager
WIT seeks new talent to join Board of Directors
WIT partners with Anacostia Arts Center to offer its first satellite class in Ward 8
Washington Improv Theater seeks an Education Manager to administer and foster the growth of our educational programs, providing an excellent experience for students, instructors, audiences, and artists.
Major areas of responsibility include:
Plan and manage classes program
Plan and manage Improv for All workshops program
Administer class and workshop enrollment
Cultivate and support teachers and teaching assistants
Management
Plan, budget, coordinate, staff, and implement WIT's education programs: a year-round classes program for adults (currently approx. 1,300 registrations per year), the WIT University continuing education program, and WIT's community outreach program Improv for All which includes free intro workshops in all 8 Wards of the city as well as ad hoc workshops in schools and for other partner organizations.
Responsibilities include:
scheduling instructors and managing ensemble rehearsal/classroom spaces
assisting students in class registration, transfer, and cancellation
assisting the External Relations Director in promoting the program
Growing WIT's teaching capacity:
Facilitate camaraderie and sharing of best practices among the faculty community
Maintain a teaching assistant program, hiring and cultivating the next generation of up-and-coming teaching artists.
Develop appropriate, inclusive systems of evaluation for measuring classes and free workshop program success and aligning program growth strategies with that data
Work with Artistic/Executive Director and instructors to complete redesign and implementation of a revised curriculum (project underway)
Communication
Serve as primary contact for all contractual teaching staff, students, and key venue contacts
Work with Production Manager to track and administer class discount "rewards" for WIT's volunteer Operatives
Compile and share reporting on WIT's education programs, including reporting to Board of Directors
Additional responsibilities may include, but are not limited to:
Collaborate with WIT staff and Board on strategy for WIT's performance and organizational training programs.
Collaborate in creating content for print or electronic collateral materials (e.g. postcards, brochures, emails).
Assist with WIT's fundraising activities as requested.
Assist with other WIT programs and events.
Job Requirements
Knowledge and experience in program planning and project management. Strong customer service skills a must.
Candidates should demonstrate exemplary organizational abilities and an ability to create and adhere to processes and timelines.
Demonstrated ability to: organize and manage complex projects, manage teams to achieve success, creatively collaborate, communicate with various stakeholder groups.
Helpful experience in: budgeting, online registration systems, marketing, and communication. Arts education or arts management background helpful but not required. Required: enthusiasm for working in a mission-driven arts organization
Experience and Education
Excel, Ovationtix or other online event registration software, MailChimp, Google Drive shared folders. Bachelor's degree preferred.
Work Environment
Friendly open-plan office near U St. NW. WIT is an Equal Opportunity Employer. Persons from diverse backgrounds are strongly encouraged to apply.
Compensation
Full-time salaried position, salary commensurate with experience. Benefits include paid leave, health insurance reimbursement, some flexible scheduling. This position reports to WIT's Artistic Executive Director.
How to Apply:
The deadline to apply to this position has passed. We will be in touch with qualified applicants.