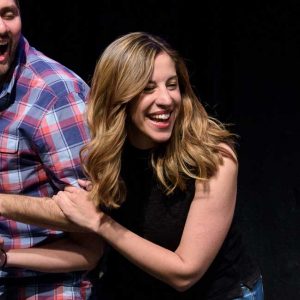 Jaci Pulice on Interplay's improviser-puppet mash-up
Love Onion's Joe Dawson and Sam Bonar talk collaboration with percussionist Tom Teasley
WIT's Diversity Scholarship: A Year One Report-out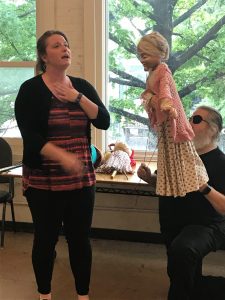 This weekend's shows in the Interplay road shows at DC Arts Center will have some performers who might seem a bit stiff. And that's because they're made out of wood. Jaci Pulice (Commonwealth, iMusical) will be one of the improvisers participating in four nights of puppet-improv mash-ups and she spoke to us about what to expect.
Tell us about the set-up for this show with The PuppetCo.  What can you tell us about how it will play out?
[PuppetCo Artistic Director] Christopher Piper will have his cast of puppets join improvisers on stage in a variety of types of scenes: duologues (two-person documentary-style interviews), human puppets, and rich stage pictures are all things audiences can expect.
By nature of puppets taking stage, there is a really playful tone. There is something inherently magical about a puppet. Christopher is so talented, I know you often think of the phrase "puppets come to life" but I think you'll equally see that awakened vivacity in the improvisers as well when they play with the puppets. We were all truly delighted and felt a childlike freedom in the rehearsal process, it's such a gift to play with the puppets.
How is improvising with a puppet different from improvising with another person?
Well, for starters, if Christopher pulls out a cow puppet, you are indeed playing with a cow and recognizing their character as a cow.
There is also staging technique. For example, when presenting to the audience in a duologue you want your body in line with the puppet- not the puppeteer. Also there is a real benefit to proximity and intimacy with the puppet, it helps hold the suspension of disbelief if you're as naturally as close to them as you would a human. Expect some sweet hand holding and cheek-to-cheek smiles.
What can audiences expect from this collaboration?
Joy, innovation and a one-of-a-kind experience. And of course, laughs! Christopher is a talented improviser with great comedic instincts—those puppets are witty and I wouldn't be surprised if they get the fast track to joining a WIT ensemble after this!
Any fun moments from rehearsal?
It's a rare and funny moment when the question is asked "Should we tag out you? Or the puppet?" To find out the answer, come see the show!
Get tickets to Interplay today! Sunday's show is already sold out.