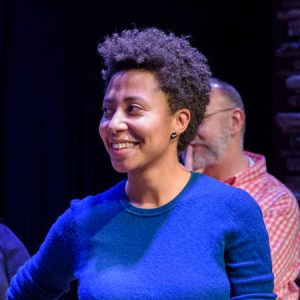 WIT's Diversity Scholarship: A Year One Report-out
Jaci Pulice on Interplay's improviser-puppet mash-up
WIT casts 17 new Harold team players
One year ago, WIT announced the creation of its diversity scholarship. The intent of the scholarship is to enable more diverse communities to pursue improv, which would mutually benefit the improv community and the individuals selected. Our efforts to better represent DC's diversity on our stage begin in the classes program.
As of May 2017, 21 individuals have received WIT's diversity scholarship. Accepted scholarship recipients are supported through all levels of the curriculum. Six recipients have successfully completed WIT's curriculum. So far, three diversity scholarship recipients have been cast on Harold teams and two have been cast on WIT special projects. In addition, one diversity scholarship recipient appeared in WIT's one-night show Vagina!: An Improvised Monologue Show.
To date, these awards have amounted to nearly $10,000 worth of classes with another $18,000 budgeted for next fiscal year. Expenses for the diversity scholarship are built into WIT's annual budget, with individual donations supporting the program (including one anonymous major donor).
"One year into the program, the program has exceeded my expectations—it's been a remarkable success," said Education Director Jonathan Murphy. "The fact that we've already had so many recipients join our performer community convinces me that we've chosen the right approach for our program."
Interest in the program has grown, with the application pool growing significantly every quarter. In its first quarter, WIT had ten applicants all of whom were current students wishing to continue through the curriculum. As of May 2017, 59 people have applied for the scholarship including 25 individuals who applied in the past quarter. One of the most recent scholarship recipients was referred to the program by prior scholarship recipient.
"Over the past year, the applicant pool has grown more and more competitive. Current applicants are much more engaged in what we're doing and prepared for what our scholarship provides," Murphy said. "Applicants continue to tell me they want to see increased representation of their communities on stage. It's a common theme. The scholarship program reinforces that everyone is welcome at WIT and that we are committed to increasing diversity in the student and performer community."
In addition to providing classes at WIT's primary classes location at CentroNia, WIT's recent grant from the National Endowment for the Arts will enable the organization to provide individual classes to high-ranking applicants who weren't awarded scholarships.
Karyn Wilson, pictured at the top of this article, is a diversity scholarship recipient. She is a player on the Harold team Out Sick and in the upcoming WIT special project Heavy Rotation.