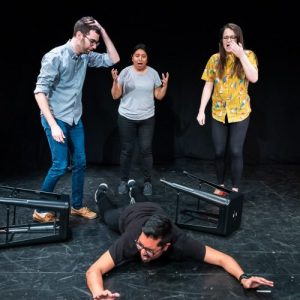 Interview with FIST Champions The Broken Bones
Two years after debuting scholarship, WIT pursues a dual approach toward increasing diversity
Vote on WIT Senior Superlatives for Teen Spirit
Another FIST has drawn to a close and only one team was left standing: The Broken Bones. We talked to members Erick Acuña, Neil Baron, Kristina Martinez, and Kelsey Peters to hear about their meteoric rise to the top, their pre-show beverage choices, and  Lethal Weapon 3.
Congratulations! Tell us about the moment your name was announced during the FIST finals.
Kristina: Boy! That was neat. It was a whirlwind experience. I did tell the trophy after the photos and congratulations from friends that it was nice to meet it and that I hope to see it again soon. We still haven't made that work, but you know… schedules.
Neil: It was pretty cool. I think we were the underdogs going into the finals so it was a neat surprise.
Kelsey: I kind of felt like I was going to barf and also I felt everyone staring at me. Those moments are so awkward! But I was in complete shock when I heard our team. It felt incredible, but I still felt a big ol' barf coming on.
Kristina: I do remember hugging Kelsey and thinking, is she going to barf?
Neil: I remember Kelsey was so happy when they announced the winners: The Barfing Bones
Erick: I wished I had seen it but I was crying. A lot. I've had so much fun on stage with The Broken Bones, so it was so incredible to win. Plus it's the first team with two POCs (Latinx!) that won FIST. Yay for diversity! Y hablamos español en el último show así que eso es muy cool.
What is the Broken Bones origin story? How did you form and how much had you performed together before?
Erick: I haven't done FIST in the last three years because it's a lot of competition and anxiety. But, Neil convinced me. I knew Kristina and Kelsey would be chill and fun. The four of us had a very unusual double date (not the FIST team) at Ted's Bulletin, and we had one rehearsal/show before FIST.
Kelsey: When Erick told me, I got unbelievably excited. I've admired Kristina and Neil for a long time as their duo Goodison. When I first saw them at the Dojo Duo Duel Tournament (they kicked my butt), my brain exploded by their stupid characters and their general improv style. I hadn't seen genre improv before. So yeah, when they asked I was like UM YES PLZ. Also, I like Erick and his improv a lot too.
Neil: We're all dating someone else in the group, did yall know that? I'm dating Kristina, Kelsey's dating Erick, Kristina's dating Erick, and I'm also dating Erick.
Erick: That is not true.
Kelsey: Wait. Are we not dating Erick?
You used injuries (appropriate for a comedy show) as your audience suggestion. How did that come about? How did you land on your format, and did it evolve over the course rehearsals and competition?
Kristina: Neil thought of the name and the suggestion. There's a scene in Lethal Weapon 3, where they compare scars and it's like they're flirting over it or something. I don't know; I was little when that movie came out, pretty sure it was flirting but that was lost on me. Anyway, people seem to like to talk about injuries.
Neil: I do whatever Kristina says. Always. My weiner is 90000 miles long and 500 years old.
Neil: Kristina wrote that but it should maybe still be included because it's true. The suggestion is nice because it puts us in a place to play hard physically and emotionally. We all have game-y improv in our blood, so we play fast and get physical and trust that the heady game pattern stuff will naturally work its way in.
Kristina: I think we decided to include the phrase, "Keep in mind this is a comedy show" because there is so much room to have the show go to a dark space right off the bat. But I was also pitching to make sure that the injury was gnarly.
Kelsey: I love a good wipeout story. We did a Spokane form most shows because it let us play in different speeds and no matter how nuts it got, we could always go back to our base scene and take a breath. All of us sweat a lot. Our shows were workouts.
Erick: Some people have approached me to say that they want to share their injury stories with The Broken Bones. We already have a show for the next WIT run at DCAC and we cannot wait to keep performing to use every injury story in DC.
What was your favorite moment during your run—on-stage or off-stage?
Erick: So many moments on stage. Here I go (stream of conscious): Getting punched in the balls by Neil (twice); Kelsey as a giraffe on top of stools; family dinner as choo choo trains where every train could talk normally but me; sumo wrestling between Kristina (Moses) and Kelsey (Noah); three elephants playing rock, paper, scissors; speaking Spanish in the last show. I can keep going but I won't.
Kristina: It's fun to play with this team and to find such joyful moments on stage. I think I'm really into being a scamp on stage, and for the purposes of this interview I looked up the definition: "A person, especially a child, who is mischievous in a likeable or amusing way." (https://en.oxforddictionaries.com/definition/scamp, accessed 4/23/2019). So for me, it was watching Kelsey move like a giraffe and pulling the chair away just a little further, Neil starting the West Wing walking and talking, and Erick finding a reason to go into the audience.
Kelsey: Off stage: We found out Saint Ex had a basement. We got to dance with a bunch of the competitors/friends in FIST, and it felt like a nice reminder that we all love each other and are still humans outside of stressful improv competitions. On stage: We were reenacting Noah's Ark, and realized three of us had walked on as elephants, and one would have to die. The audience realized this before we did. It felt like genuine improv.
Neil: What I appreciate most about this team is our speed. I think we played notably faster than most teams, but it never felt like we were actively trying to play fast; it was comfortable and natural to play at that speed. I'll pick one moment that I liked for each of my cool teammates: Kelsey jumping on Erick and refusing to be tagged out, Erick messing with my glasses as the moon, Kristina trying to figure out how winter works in the southern hemisphere.
Competition can make some people a bit superstitious. Did you have any pre-show rituals or special warm-ups?
Erick: I wore the same t-shirt. It has a picture of Selena Quintanilla-Pérez, one of the most celebrated Latinx entertainers of the late 20th century. We also went to Saint Ex half an hour before our show to grab one beer and chill. We did it every single show and it worked!
Neil: I drink a Diet Coke before every improv show, not just FIST shows, sometimes more than one if it's a big show. We didn't really do warm-ups.
Kristina: The only thing we practiced was the opening, and we'd play the song and do our kicks and punches. Also, we practiced hosting because hosting can make or break a show. Me, personally? I would go to the corner of the room and listen to Drake's remix of N.E.R.D and Rihanna's "Lemon."
Kelsey: Toward the end we started singing our opening song, Anti-Flag's "Broken Bones" acapella style. It gave me goosebumps to have us all contributing our unique voices and making a harmony together. I think it was a nice metaphor for how it felt to play with The Broken Bones. Even when any of us did an insane off-pitch move, it was always supported.
Kristina: I think we tried to make each other as comfortable as we could while all dying inside of stress.
Do you have any advice for future FIST hopefuls?
Kristina: Play with people you like and that you can stand doing terrible stuff on stage with.
Erick: Hang out with your team, don't think too much about advancing, and have a blast on stage. I think audiences can see when a team is having a joyful time.
Kelsey: Play for yourself and what your team finds fun, not the audience. Sleep. Go see other shows and be inspired by the DC talent. Also, have Ken Bone endorse you and wear cool shoes.
Neil: You need a lot of luck to go deep in this thing. There were several spots where we could have easily been knocked out and for whatever reason it just happened to go our way. In any given year, the best team could get knocked out early and a terrible team could end up winning which is what happened.
Kristina: Also do good improv and carry your Neil-type scene partners to the finish.
Neil: Yes, thank you.
Sum up your FIST experience in three words.
Erick: Una experiencia inolvidable 🙂
Kristina: Support, support, support.
Neil: Location, location, location
Erick: Game, game, game
Kelsey: Friendship. Friendship. Friendship.
Neil: Lose = breakup.