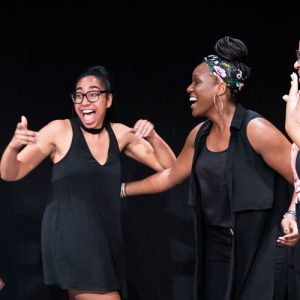 Two years after debuting scholarship, WIT pursues a dual approach toward increasing diversity
A chat with WIT's featured ensemble: LIZARD GIRL
Interview with FIST Champions The Broken Bones
After debuting in spring 2018, Washington Improv Theater's diversity scholarship has continued to engage improvisers of color and prepare them to join our performer community. In addition to the strides made through the scholarship, WIT has worked to increase diversity through strategic investments in its work at Anacostia Arts Center.
Diversity Scholarship recipients take the stage
To date, 32 individuals have received diversity scholarships, which offer students a "full ride" through WIT's five-level curriculum. So far, eleven recipients have completed WIT's training program. WIT has awarded more than $25,000 in scholarships.
After three diversity scholarship recipients were cast on WIT's Harold teams in the first year of the program, four more recipients were cast in year two. The Harold program currently features six diversity scholarship recipients (one has moved on to a company ensemble). Scholarship recipients have been featured in the WIT projects Heavy Rotation, Vagina! An Improvised Monologue Show, and The Feminine Experience.
In addition, the cast of fan favorite Fighting Improv Smackdown Tournament team I Don't Know Her included three scholarship recipients: Nichole Hill, Lauren Jordan, and Simone Webster. The team advanced to the Elite Eight of the tournament and also competed in The Comeback Brawl for a spot in the final match.
"I decided to take just one class after finding out about the scholarship because it signaled that WIT was not just saying that they wanted to see diversity in improv, they were intentionally creating opportunities and removing barriers," said Hill. "I've been welcomed into this hilarious, talented, disciplined, beautiful community of performers, I've joined a sexy troupe of incredible Black women, and I have my eyes set on finishing out the curriculum."
Education Director Jonathan Murphy designed the scholarship to increase the presence of diverse performers on WIT's stage.
"The diversity scholarship was always designed to increase the diversity of voices and talent on stage in DC. We start this work inside classes. In only two years we've seen remarkable success," said Murphy. "The program has also become incredibly competitive. Successful applicants frequently have previous improv experience and are much more familiar with the kind of performances we do. This understanding increases the chances they will become performers."
NEA Grant Opens More Doors
With our first-ever grant from the National Endowment for the Arts, WIT programmed classes at Anacostia Arts Center. Using WIT's past engagements at AAC as a guide, Murphy built on lessons learned to help the classes fully enroll and maintain high retention rates.
Starting in summer 2018, WIT used a two-pronged approach in conducting outreach for Level One classes at AAC. This approach included communication with local residents as well as engaging applicants to the scholarship program. All of the classes were filled:
twelve students enrolled after WIT offered a free class to Improv for All workshop participants who live in Wards 7 and 8
another 37 students enrolled who had previously applied to the scholarship program
"One of the surprising discoveries of the scholarship program is that we still had difficulty reaching people in Wards 7 and 8. Bringing classes to the Anacostia Arts Center helps bridge that gap," said Murphy. "Before the NEA grant, our programming at AAC appealed to people by being free or very low cost. But focusing on price instead of value meant we experienced higher rates of no-shows or drop-outs. Retention was challenging. By offering classes to our scholarship applicants, we saw a much higher retention rate, which allowed us to run a Level 3 class at AAC in winter 2019. Excitement about a second Level 2 at AAC this spring was off-the-charts."