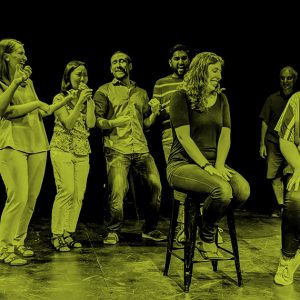 Improvisers of all experience levels invited to WIT's new bimonthly jams
Use laughter to practice good communication skills: Nichole Hill
WIT establishes non-retaliation policy
Starting this month, WIT will host free bimonthly jams over Zoom—and improvisers of all experience levels are welcome!
These 90-minute jams will take place the first Wednesday of each month starting at 7 PM EST and the third Sunday of each month starting at 3:30 PM EST. The first jam will take place on Sunday, March 21 from 3:30 to 5 PM EST. 
These jams are a high-fun, low-stress environment where you can connect and play with fellow improvisers in a supportive environment. Jams are a great place to be silly, practice a skill, and/or connect with new and old friends over the collaborative world of yes-and.  
Each jam will consist of a warm-up, an option of break-out rooms to play in specific formats or skills (player's choice of which room to join), and an all-play scenic montage. 
Attendees are encouraged to sign up in advance so facilitators can get a rough headcount (though of course drop-ins welcome). 
The list of upcoming dates are below:
Sunday, March 21 at 3:30 PM

Wednesday, April 7 at 7 PM

Sunday, April 18 at 3:30 PM

Wednesday, May 5 at 7 PM

Sunday, May 16 at 3:30 PM

Wednesday, June 2 at 7 PM

Sunday, June 20 at 3:30 PM

Wednesday, July 7 at 7 PM

Sunday, July 18 at 3:30 PM