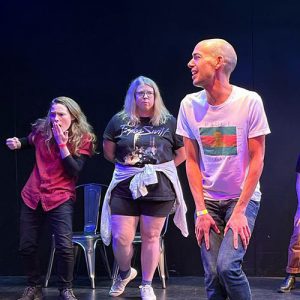 Heavy Rotation Seeking New Members
WIT Production And, Scene! Holding Auditions
FIST Champion Interview: Ze Bestie Textie
Heavy Rotation is looking for new members! Auditions will take place on Saturday, April 30 and Sunday, May 1.
Heavy Rotation performs a fully improvised rock musical. Accompanied by a guitarist and drummer, the cast will create a comedy show with songs, choreography and much more. The show debuted in June 2018 as a WIT special production and currently performs in WIT runs and at festivals around the country.
We are seeking female-identifying / gender-queer / gender non-conforming improvisers who at least have completed Level 4 in WIT's curriculum, at least one WIT's musical class or have equivalent class/performance experience. The ability to sing and/or play an instrument is a requirement.
The deadline to sign up is 11:59 PM on Sunday, April 25. Auditions will take place at the Black Box at Source, 1835 14th St. NW. 
Heavy Rotation currently practices on Wednesday evenings from 6:30-8:30 PM at a location in the NW area. If you have any questions about the team/eligibility, please email Erick Acuña (eacuna.pereda@gmail.com).