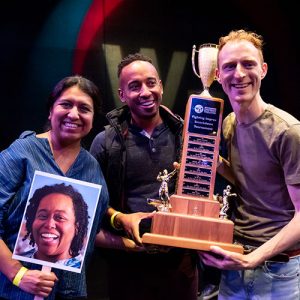 FIST Champion Interview: Ze Bestie Textie
Heavy Rotation Seeking New Members
WIT hosting jam for neurodiverse improvisers
The first FIST in three years is done and we have a winner: Ze Bestie Textie! New champions Geoff Corey, Darnell Eaton, Eva Lewis, and Kristina Martinez took some time to chat about their road to claiming the crown.
How did you get together as a team? And how did you develop the concept for your format?
Darnell: Eva Lewis and Kristina Martinez asked me to be a part of their FIST team back in 2020 called Ze Cappuccino City that never saw the light of day due to the 'Rona that pulled the plug on FIST for the next two years.  We were bummed because we knew that we'd be a competitive team that year. Fast-forwarding to two years later and during the holidays while I was recovering from Omicron, Geoff reached out to me about the FIST sign-ups that had just posted, which was the perfect opportunity for us to play together. This was also the perfect opportunity to revive the old group and add a Geoff to replace our 4th member who moved out of the area. Individually, we are all super talented improvisers and our powers combined created the perfect ingredients for a winning FIST team! 
Geoff: I wanted to try a format where the first line of every scene was exactly the same. One of my favorite warmups I did on Not Great With Kids (Harold Team, 2016-2017) was where we walk across the circle and say the same line to each other but with different connotations or emotions. It really shows that the tone of how you say something can completely change the scene. I think I suggested we get a text message from your ex and call it "Texts From your Ex", but everyone said no that was too negative, which makes sense. Eva said it should lead with love, suggesting a text message from someone you love. To avoid it always being a show about romantic relationships, we made it a text from your best friend. Eventually, I think Darnell quoted the Saweetie song and changed the lyrics to say "Is that my bestie with textie?" And boom. Team name. (And walkout song.) 
Kristina: About two shows in we realized we were stronger at callbacks and connections. The form we had been running didn't allow for that. So we moved to using the text for three scene starts and then going from there. I think that freed us up to follow and revisit the fun. 
Eva: And I approved it. 🙂
You had a very competitive bracket with most of your matches selling out well in advance. How was that experience?
Kristina: That was terrifying! Ticket sales are one thing, but we were up against fierce competitors. 
Geoff: Just incredibly stacked teams with people we all love and respect. I remember there was one show against Baggage Claim and You're Invited where it sold out less than 24 hours after we found out we were in it! 
Kristina: I would get a text from an unnamed source in the audience that would gauge the audience response when the host introduced the teams at the top of the show. Umm…that would put some fire in my improv belly. 
Geoff: Yes we received a text from said source that there was huge and loud applause for Baggage Claim and again for You're Invited and then only a few people meekly clapped for us. We were certain that was it, we were done. But in some ways it took the pressure off, and we went out and gave it every single thing we got, thinking this was our last show so let's leave it all on the table. Somehow, we pulled through!
Eva:  It is the best to have a sold-out crowd and to have a sold-out crowd that wants to laugh. It made the shows that much sweeter.
What was your favorite show or scene of your run?
Geoff: My favorite show as a whole was the finale, but I will always have love for our first show where the text we got (and so the first line of every scene) was "I'm outside your house with a bat." We had several scenes where it was a baseball bat and some really fun scenes where it was a bat like the nocturnal animal. That kind of word play was exactly what I was going for in the concept of our show. As the show went on, we were able to merge the two, so at one point Kristina was outside Darnell's house with a bat because Darnell had a bat in the house [chef's kiss]. My absolute favorite was how it all ended — the last scene had Darnell, Eva and I wrestling with a bat in the house and the final line before blackout was our neighbor Kristina coming over to help, knocking on the door and saying "I'm outside your house with a bat!" Beginning and ending on the same line? Perfect! I just loved it. 
Eva: There were so many fun moments.  During our Final Four round, we had a scene where Kristina was an auditioning child actor and Darnell was her stage Dad. It was the first day of fifth grade and the seriousness with which Darnell and Kristina played that scene still makes me chuckle today.  I also loved the scene where my character was breaking up with Kristina's character after 10 years, but did not want to have the confrontation and just wanted to disappear.  Geoff was the supportive friend that ended up breaking up for my character.  Comedy gold! 
Kristina: My teammates have a way of making scenes gold, so I'll pick a few of my favorite moments for each: Darnell's dance moves on stage were amazing and he also taught me how to twerk right before a show, so I'll always be thankful for that. Eva's terrifying sex-positive child was hilarious. And Geoff wrangling a bat in our first show was a preview of how physical that guy will play.
Darnell: I'm going to have to agree with Kristina that the sex-positive scene was one of my favorites! Eva, my toddler-ish daughter, asked her babysitter, Kristina, and Geoff, the Sitter's boyfriend, if it was time for her to "Watch the Sex", and me being the sex-positive father… The audience lossed it! I also loved our Boy Band Scene as the group name was "Scooping Up Dog Shit!", which was the text suggestion we got.  We had a dance number and song that we did on stage. So as you can see, I enjoyed the scenes where we all got to play in it together.
Did you have any pre-show rituals? What did you do to connect/get on the same page?
Kristina: Eva needs to have the floor for this one. She kept us all on track. 
Eva: Oh yes, we definitely had a routine, which is key.  It cuts down on not wasting time and we get into a groove. Five steps! First, we do a stretch and story. Second, sound and motion. Third, we go around in a circle and one person turns to the next person and says the first syllable of a word and the second person tries to guess the word that the first person is saying.  If there is a match then we all say YAY!  Fourth, three line scenes. Fifth, run our show format and only do three scenes.  Lastly, before we go on stage, we always say we have each other's back.
Eva was officiating a wedding during the finals! How did that impact your mindset going into the finals? Tell us everything!
Geoff: Oh I was nervous as all hell. Eva is an essential part of the show – her observations, her characters, her scene starts. When I looked back on all our shows, she was always the key ingredient in the best scenes.  
Kristina: She was chatting us up in group chat right before and after our set. We all wanted to make her proud. But I will say, we were trying to figure out the logistics of getting her back in time for our set. (She looked stunning in her officiant outfit!)
Geoff: In the finals show we all just gave 100% of ourselves to every scene. Like, I think in some previous shows we deferred to each other's strengths, allowing each of us to do what we did best, but the truth is we all know how to do characters, how to get physical, how to make game moves, how to add stakes, how to observe and emotionally react. So in the Finals, we all did all of it. 
Darnell: I was as cool as a cucumber ;-). Okay, maybe I was sweating it a little…but we are all individually talented and Eva put her work in prior and it paid off for us all. So we did what we had to do to get to the finish line.  And we did! I also woke up the morning of Finals to a voice in my head that told me we were going to win, so there's that.  
Eva: Y'all did your thing. I am so proud to be a member of this team. For the final match, the team had a picture of my face for the top of the show (they also danced a bit with the photo over their face) and for the subsequent Championship photos. I felt the love. It was the sweetest thing that has happened to me in a long time. Thank you, ZBT!  I love you to the moon and back.
Eva and Geoff, you've both been FIST finalists before. How did it feel to clinch the win?
Eva: It felt bittersweet.  I missed the finals because I was officiating my cousin's wedding in Philadelphia. I would have loved to perform but I would not have given up the privilege to marry my cousin and his now husband. Being there or not being there, I helped get our team to the finals and I am so happy that we won. I had an extra step in my electric slide after hearing the news and seeing the videos and pictures. I have been in this improv world for a long time. Shoutout to my first improv team, Press Play! And for DMV improvisers, FIST is a BFD.  I have had good and not so good experiences with FIST, but I keep coming back because it provides an opportunity to play with folks that you normally would not get to play with on your teams. I love this team! So, to have made it back to the finals and to have won is a super-duper good feeling that makes me smile to high heaven. Lastly, I believe Darnell and I are the first Black improvisers to win FIST.  Representation matters!  When I started in 2009, there were not a lot of Black improvisors or even improvisors of color.  However, that is changing and I like the new tapestry that is growing in the improv community.  Drawing inspiration from the VP's Mom, we may be the first, but we will not be the last. 
Darnell:  Since Eva's doing shoutouts, lol, shout-out to my very first team Subsidized Corn and, of course, Lena Dunham Improv! 😜
Geoff: There's some famous quote that says "repetition is more important than talent." I think that's particularly true in improv. For me, winning feels like a culmination of years and years of work. It wasn't just this FIST or 2019's FIST with Love Language. I've spent eight years taking classes, regularly going to rehearsals, discussing the craft with friends and coaches alike, and most importantly doing shows, including really bad shows, great shows, and mediocre shows. I've been the most experienced person on a team, and the least experienced person on a team (I firmly believe you need to have both experiences because they teach you different skills). I never would have been here without years of learning from my incredible teammates and coaches on Not Great With Kids, Wonder Whale, Nox!, Love Language, The Heist, Runaway Train, and Cabin Affair. But all of that took work! So honestly, I feel pride in this win. I'm proud of myself for setting a goal and achieving it, and I'm proud of my team for being so dedicated to getting this format right, putting on the best show, and always lifting each other up throughout. I love this team so much!
Kristina, how does it feel to win back-to-back FISTs?
Kristina: Feels pretty good. Felt good to win with The Broken Bones in 2019. Felt good to have a break. Felt good to win with Ze Bestie Textie. But I am going to use this platform to announce that I am officially retiring from FIST. (Unless there's a team that's looking for a fourth? *looks around*) I'm taking career advice from Tom Brady on how to retire successfully. 
What advice do you have for future FIST competitors?
Kristina: Have fun and do good improv. And good improv is whatever kind of improv you do.
Darnell: Play confidently! One way to do that is to figure out what your strengths are as an improviser, accept them and lean into your strengths. Play with other people with varying talents than yours and trust that they have your back on stage. 
Eva: Have more positive scenes than negative scenes, the audience has paid good money to be entertained so give them something that will make them feel good. Also, do more scenes where you all are out on the stage together.  There is power in numbers.
Geoff: Get a team of people together whom you like and respect, and want to play with more.  A lot of FIST teams don't rehearse, but we always said "we could be eliminated at any time, so let's get as many runs in together as we can." For us, that meant rehearsals. Ze Bestie Textie truly wanted to play together because we independently respected each other's skills and thought we would mesh well. But with the exception of Eva and Darnell, we really didn't know each other before this. We were friends, but we hadn't played together. Weekly rehearsal changed that for us. We would run the format a couple of times, but also just hang out, learn about each other's backgrounds and families, and laugh and laugh and laugh.