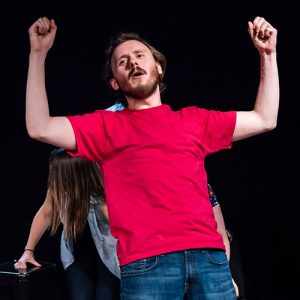 Harold Night to feature sign language interpretation on June 26
WIT Announces Directors Series
Analía Gómez Vidal breaks down boundaries with ESL improv workshops
In a first for the organization, Washington Improv Theater will feature American Sign Language (ASL) interpretation during both the 8pm and 9pm Harold Night performances on June 26. The line-up will include shows by Captain PhD, Tiovivo, Out Sick, and Wonder Whale.
The interpreter team for the shows will be from First Chair Interpreted Productions, LLC, who also provide Sign interpretation for Studio Theatre productions, among others in the DC area.
This engagement is a test case to examine the challenges of using sign language interpreters during improvised performances. WIT is committed to expanding accessibility to our work for all audiences.