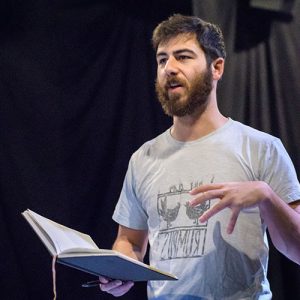 WIT Announces Directors Series
Connor Gorman lends a mic to musical anecdotes with Karaoke Storytellers
Harold Night to feature sign language interpretation on June 26
Washington Improv Theater is pleased to announce the Directors Series, a program designed to create new shows by giving directors (including first-time directors) the opportunity to pitch and produce an original show. With technical assistance from WIT, each selected director will conceptualize, cast, rehearse, shape, and present a show with a limited performance run (at least 4 curtains). The series is intended to encourage the development of new voices with innovative artistic visions. The series is also a platform to allow cross-pollination among improvisers who perform on different WIT teams as well as those outside WIT's current performers.
WIT's experience producing and supporting a handful of special project shows over the past few years has helped define the steps now mapped out in the Directors Series.  The October Issue, Yearbook, Improv Actually, Citizens' Watch and In Lieu of Flowers are all examples where directors have worked with cast to deliver a unique vision in a new WIT production. The Directors Series hopes to build on that legacy, starting with Heavy Rotation coming up in the Summer Escape run at Source.
"Directing a new show from idea to execution is totally thrilling and we want the Directors Series to help more people have that experience. We want to encourage more improv artists to dream big dreams about the kind of show they can do. This is a great opportunity for someone with a project they're dying to do to step into the ring in a way that gives them lots of support," said Chalfant.
WIT aims to feature at least one Directors Series show as part of each performance run in the 2018-19 season. The dates for those performance dates are as follows, along with the two Directors Series deadlines.
SUBMISSION PROCESS
Submitted projects are assessed by a panel of improvisers who have directed past projects. In Round 1, panelists respond to initial applications with questions which submitting directors then answer. In Round 2 panelists score submissions, assessing Concept Vision, Feasibility, Originality, and Audience Appeal.
Round 1 (Submission Deadline 11:59pm July 15, 2018): 
Note: This deadline has passed.
WIT's 4-week fall run at DC Arts Center (Oct 25 – Nov 18, 2018 – around 45 seats)
WIT's 5-week winter run at Source (Nov 29 – Dec 31, 2019 – around 100 seats)
WIT's 3-week run at Atlas Performing Arts Center (Jan 10 – Jan 27, 2019 – around 70 seats)
Oct. 1, 2018 UPDATE:
The next Round of Directors Series submissions, for performance runs in 2019, will include the following runs
Round 2 (Submission Deadline 11:59pm Nov. 30, 2018):
WIT's 4-week run at DC Arts Center (May 2 – May 26, 2019 – around 45 seats)
Fall run (dates TBD, likely at DC Arts Center or other venue)
Winter run (dates likely weekends in December at source)
[From left to right:
Yearbook
,
Citizens' Watch
,
Improv Actually
, and
In Lieu of Flowers 
have each introduced fresh, unique concepts to the WIT stage guided by a visionary director or directors.]